It's the top of every new parent's wish list and you'll wonder how you ever did without it. Anything that helps your baby sleep soundly will help you get some much needed rest too.
We're here to help you create a snoozy and safe nursery space for your newborn, with all the comfort and reassurance of soft lights and soothing sounds. And as they grow we can help your little one develop healthy sleep habits, so they can settle themselves back to sleep through the night and learn when it's okay to jump out of bed refreshed and ready for new adventures.
We've been making baby products for more than 50 years, so we've heard a lot about sleepless nights from parents. In December 2017 the Gro Company became part of the Tommee Tippee family, allowing us to introduce many new sleep products to customers across the globe.
Our range of nightlights and sleep aids help you create a safe and comforting sleeping environment for your child, while our cute and cuddly Grofriends use clever CrySensor technology to listen out for baby's cries.
Our cute and cuddly Grofriends are bedtime pals that provide soft lights, soothing sounds and gentle lullabies to help your baby settle to sleep.
They use CrySensor technology to listen out through the night and play soothing sounds or lullabies to help comfort and settle your baby if they wake. 85% of babies sleep better with a Tommee Tippee light and sound sleep aid*
*Source: 222 UK respondents, feedback survey August 2018
It's only natural to want to create a comfortable and appealing space for you and your baby, but when you're planning your baby's nursery, as well as making it look amazing, it's a really good idea to think about how you can make it sleep safe and friendly too. We have some really simple ideas that can help.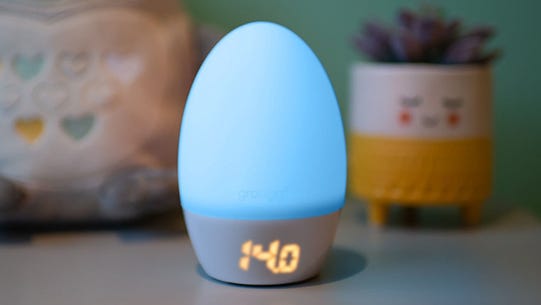 Groegg2
This unique colour changing room thermometer and nightlight helps you monitor the temperature of your baby's room to help ensure they can sleep safely. The gently glowing light shows you at a glance if baby's room is too hot, too cold or just right. The colours coordinate with colour codes on our sleepwear to help you decide what to dress your little one in at night.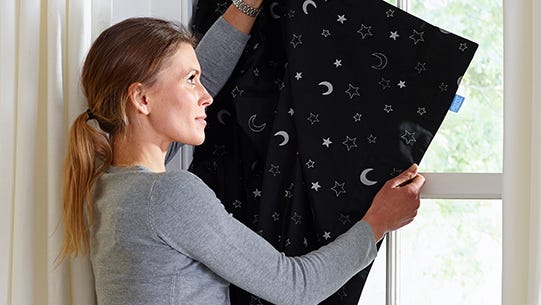 Gro Anywhere Blackout Blind
It's not always easy to keep baby's room dark, especially on lighter nights or when visiting friends and family. The Gro Anywhere Blind helps you create a dark sleeping environment for baby anywhere. It uses suction cups to attach to windows to black out the light and is easy to fit and adjust in seconds.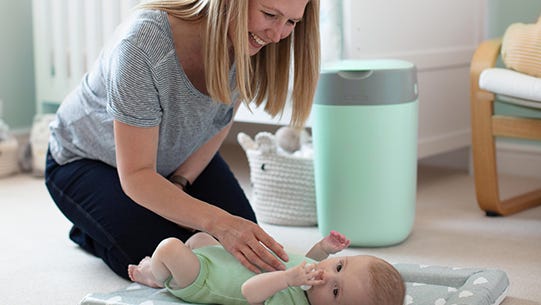 Twist & Click nappy disposal system
There's one thing you're never really prepared for - the smelly nappies. Don't worry, we can help. Our Twist & Click nappy disposal bins help keep your home smell and odour free and save you lots of extra trips to the outside bin. Twist & Click is the only nappy bin that individually wraps each nappy in anti-bacterial film for unbeatable odour protection.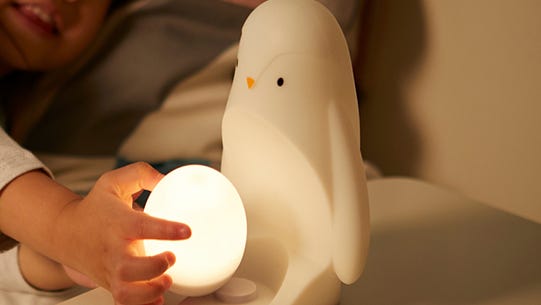 Penguin 2-in 1 nightlight
This cute bedside companion provides a soft and reassuring night light and as baby grows, a portable egg light for night-time visits to the bathroom or reading under the covers.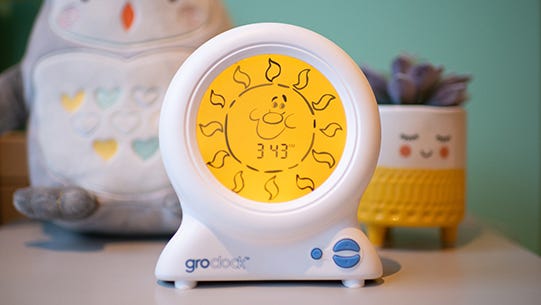 Groclock
Our innovative sleep trainer helps children who are too young to tell the time to understand when it's time to sleep and when it's okay to wake up and get out of bed.
All our baby sleepwear is designed to keep your baby sleeping soundly, no matter how much they wriggle about during the night.