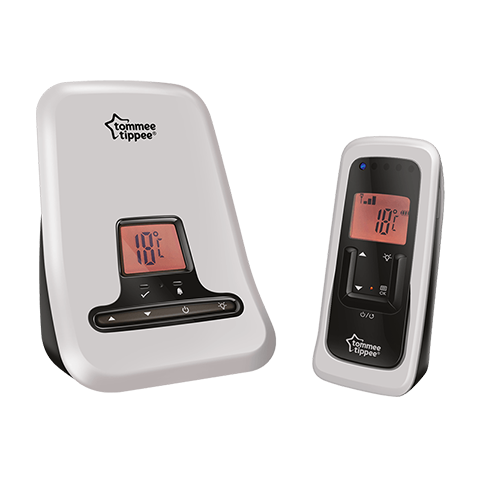 Digital Sound Monitor
Category
FAQ'S
Find some answers to the most frequently asked questions about our Digital Monitors.
What type of batteries does my monitor need?
The parent unit comes with two rechargeable batteries, AAA (LR3). If you can, it's best to charge these for at least 10-hours before using the unit. These batteries should last for ages, but if they ever do need replacing, make sure you use rechargeable batteries again. The baby unit doesn't come with batteries as it's usually plugged in. If mains electricity isn't available though, the unit will run on 4 x AA (LR6) batteries. Handy if you're camping in the wilds!
How long will the parent unit hold it charge?
It should last for up to 8-hours. That's assuming you leave it charging on the docking station for at least 10-hours prior to your first use. Failure to do so can affect future performance.
What should I do if the LCD shows 'no link'?
This means the signal has dropped between the baby unit and parent unit. The parent unit will also flash and beep every 10 seconds if this happens. To restore the connection, try moving the parent unit closer to the baby unit, or repositioning it within the house. The reach of the unit is 300m though, so shouldn't be a problem unless you live in a castle!
How long does the nightlight last?
This depends whether you're powering the baby unit by batteries or mains electricity. If you have the unit plugged in, the nightlight will stay on until switched off. If using batteries, the nightlight will fade out after 5-minutes to conserve energy.
From time to time, the unit goes completely silent. Why is this?
The DECT digital monitor has a power saving feature which makes the unit completely silent until it detects a noise. This is completely normal. Changing the sensitivity of the sound detection can be done very easily and will stop the unit going into power save mode. You can find our step by step guide within our product instructions.
Can I store my monitor for future use?
Of course! Just ensure it's packaged securely, away from heat or water, and remove and wrap the batteries separately. If possible, try to avoid storing in your loft or basement as there's a high chance of moisture, which may affect your unit.