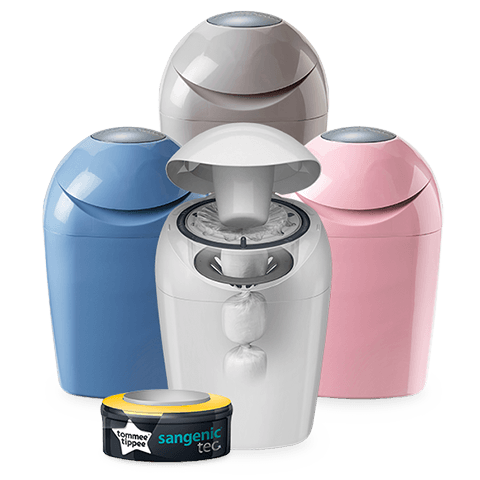 Sangenic Tec Nappy Disposal System
Category
FAQ'S
Find some answers to the most frequently asked questions about our Sangenic Tec Nappy Disposal System.
Are the Sangenic Tec Refill Cassettes recyclable?

Absolutely! The cassettes can be recycled in your normal household plastic recycling.
How do I clean my Sangenic Tec Nappy Disposal system?

Nappies are sealed away in film, so the bin stays pretty clean. But you can always wash with soapy water, or use bicarbonate of soda if it starts to get a bit smelly. Simply sprinkle the bicarb liberally into the bin, leave overnight, then rinse with water. That should soon shift any undesirable odours.
How long will the Sangenic Tec Refill cassette last?

That depends on how often you change your little one's diaper, and the size you're using. The refill cassette should last approximately 3-4 weeks (based on 3 x size 1 nappies per day).
How many nappies will the Sangenic Tec Nappy Disposal system hold?
Again, this depends on the size of nappies you're using, but as a guide the bin will hold 28 size 1 nappies.
What cassette should I be using for my Sangenic Tec Nappy Disposal System?

The Tommee Tippee Sangenic Tec refill cartridge is the one you need. You can buy these in a variety of packs sizes from most baby retailers.