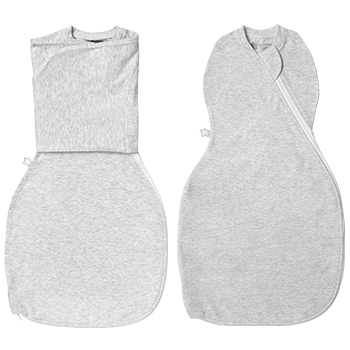 Swaddle Wrap & Easy Swaddle Support
Category
Thanks for purchasing a Tommee Tippee Grobag Swaddle. This product support page is here to help you use it safely.
Swaddling is proven to improve quality young babies' sleep. Young babies love to feel all snug and secure, just like when they were in mummy's tummy; the wrapped fabric mimics the closeness of the womb and suppresses the startle reflex meaning baby (and mum and dad) will get more sleep.
Our Swaddles are suitable for use from birth to three months old.
WARNING!
Do not use a swaddle in combination with other bedding items e.g., a cot duvet.
Product use should be discontinued when your baby can roll.
Easy Swaddle & Swaddle Wrap Size Guide
Your child's head should not be able to pass through the neck hole when the swaddle is fastened. If it can, the Grobag is too big for them. Remember to check the weight of your child and refer to the chart below.
Please note that these are recommendations only as all babies are different…
| | | | |
| --- | --- | --- | --- |
| Approximate child age | Minimum child weight | Maximum child weight | Child height |
| 0-3 months | 2.27kg / 5lb | 5.55kg/12lbs | Up to 60cm |
Swaddle Wrap & Easy Swaddle What to Wear
Because all babies are different, we recommend that you check your baby regularly as they sleep by placing your hand on their skin to make sure that they're not too hot or cold. Don't go by their hands or feet, as they'll often feel cooler.
| | |
| --- | --- |
| Nursery Temperature | Bedtime Clothing |
| 24°C & above (75°F & above) | |
| 22-24°C (72-75°F) | or |
| 20-22°C (68-72°F) | or |
| 18-20°C (64-68°F) | |
| 16-18°C (61-64°F) | + |
Guide Key

Nappy

Sleeveless cotton body suit

Short-sleeved cotton body suit

Long-sleeved cotton body suit

Pyjamas

Sleepsuit
Swaddle Wrap Features and Benefits
Easy Swaddle Features and Benefits