All about the GroEgg
Peace of mind at a glance…
Health experts suggest that babies who get too hot are at an increased risk of cot death. Getting a room thermometer will help you create a safer sleep environment for your baby.
Room temperature
The correct room temperature is vital for creating a safe sleeping environment for baby.
Health professionals recommend that the room that your baby sleeps in should be maintained at 16–20°C to help reduce the risk of cot death.
That's where we come in…
The innovative GroEgg2 changes colour to let you know at a glance whether the temperature of a room is too low, too high or just right, helping you maintain a safe sleeping environment for your baby.
As an added bonus it even works well as a gentle night light.
A yellow glow suggests a comfortable temperature for children to sleep in, whilst a blue glow suggests it's too cold and a red glow suggests it's too warm. The colours act as a reminder for you to cool or heat the room and to modify the baby's clothing to a different tog ratings on their sleepwear.
Bigger, better and more stylish!
We love the clasic GroEgg, but lets be honest…
Our upgraded version is a whole lot sleeker and will look extremley stylish in your little one's nursery.
Here are some of the other changes between the GroEgg and the GroEgg2.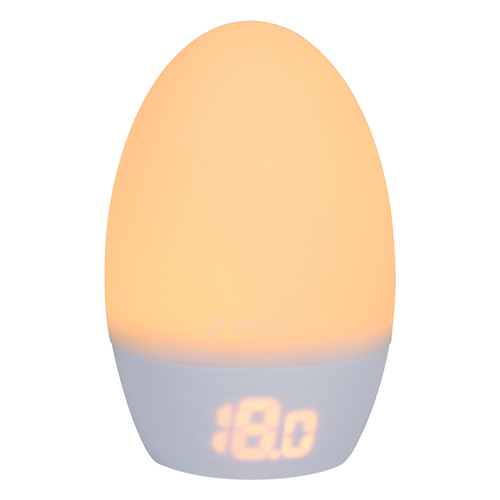 | | | |
| --- | --- | --- |
| GroEgg | | GroEgg2 |
| • | Digital thermometer with premanent 'back-lit' LCD readout | |
| | Digital thermometer with permanent lit LCD readout | • |
| • | Gentle night light | • |
| • | Colour coded system making it easy for parents to keep baby comfy | • |
| | Adjustable brightness | • |
| | Soft touch silicone dome | • |
| • | Compact and east to take on your travels | • |
| • | USB powered (adaptor included) | • |
| | Standard UK mains power adaptor | • |
| • | Conforms to highest applicable British and European Standards | • |
Safe sleep
Within our range of sleepwear options, we also have a variety of tog ratings available!
Learn more about what to dress your little one in for bed on out What to Wear page.