Sleep Solutions
All the excitement, long days, and adventures that summer brings can make settling little ones at bedtime tricky.
Baby Sleep Tips for Summer
All the excitement, long days, and adventures that summer brings can make settling little ones at bedtime tricky.
But don't worry, along with our cute and comfortable sleepwear styles, we've got some top tips to see your baby (and you) sleep soundly through the balmy summer months!
Stay hydrated
During the warm summer months, it's important that you're little one is well hydrated to help them sleep better and fall asleep faster, so make sure your baby has a good drink before bed to replenish all the fluids lost in the heat of the day.
Nap, nap, nap!
During the summertime, you're likely to be out and about most of the time. While you're exploring and enjoying the warm weather, it's important that you try to maintain a regular nap schedule for your mini-me. If when you're not at home, you can follow these next steps to make naps on-the-go a success…
If possible, plan activities around naptime
If you can, leave home just after nap time to make sure that your little one is wide awake and ready for the day's activities. If they do fall asleep on the way, no worries! Just let that nap happen and focus on the next one. Let baby sleep, get them up when they wake, and shorten their next wake time by 15-30 minutes to make up for extra tiredness if they only took a short nap.
Get a sleep aid that can come with you
The mini versions of our award-winning sleep aids are the perfect day out or travel companion for baby. Little Ollie and Pip easily attach to a pushchair, changing bag or just about anywhere, and play a choice of six soothing sounds to help settle and calm your baby whenever it's time to sleep.
You never want to feel to bound by a routine, so try adjusting your baby's schedule depending on their naps on a given day. Flexibility will allow your baby's sleep routine to coordinate with your summertime plans.
If they only manage some short cat naps during the day, make their bedtime slightly earlier as they'll need to make up for some lost day time sleep.
If you are on holiday and know that bedtime is going to end up being later than usual, squeeze in an extra nap or two in the later afternoon or early evening. Then they can have a later bedtime every now and then without becoming grouchy and overtired.
The perfect sleep environment
Working closely with trend experts, we've designed these summer-ready prints to decorate our super soft baby sleepwear...
Sunshine Rays
This lovely gender-neutral print features a warm ochre tone and celebrates the end of one day at bedtime and the dawning of a brand new one come morning!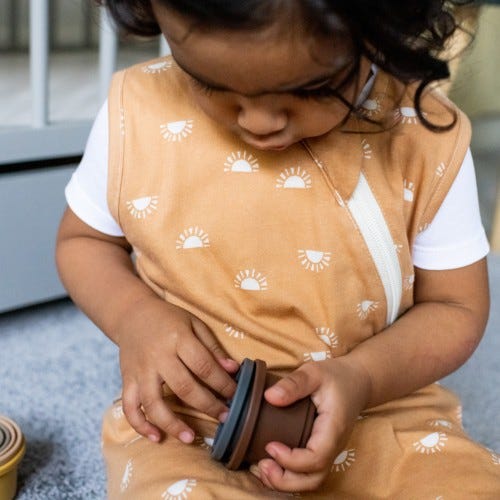 Grofriends Together
Driven by a desire to get outdoors and connect with nature during the summer months, this cool and calming blue design makes our Grofriends – Ollie the Owl, Pip the Panda and Bennie the Bear – the stars of the show.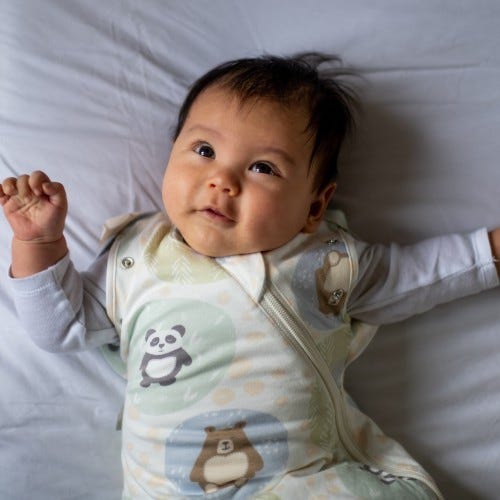 Abstract Rainbow
Our creative rainbow pattern is fun and playful. The pastel tones we've used communicate a sense of hope for what the future will bring!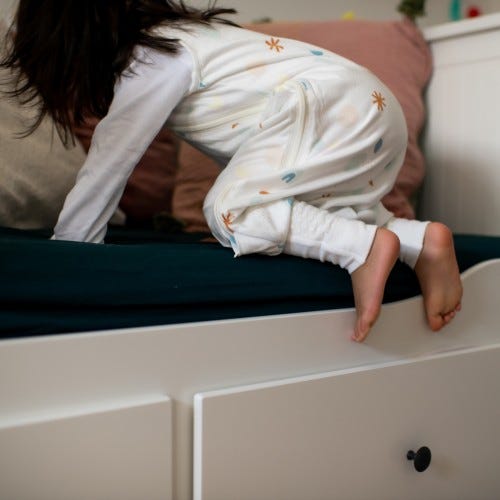 One sleepwear style, all year round, meet out All Season Sleepbag!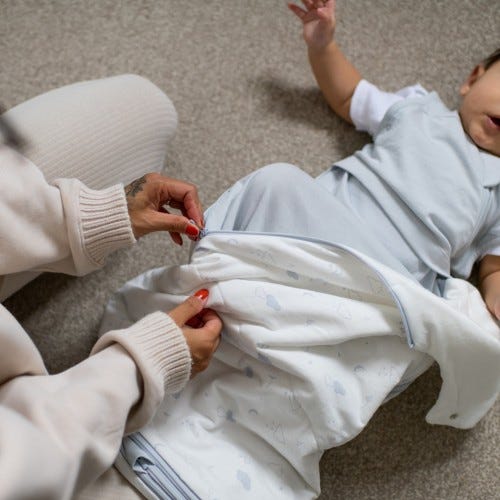 Teaming up with sleep scientists, we've developed a dual-tog Grobag™ that can be worn in temperatures from 14 to 27+°C.
Designed to be worn all year round, our new Grobag™ has removable zip 'n' pop layers that mean you can adjust what your baby's wearing as they sleep. Made for little ones aged between 0 and 36 months, it's super versatile and can change from 2.5 to 1.0 tog with ease, removing the need for loose bedding.
Basically, changing your baby's wearing layers and keeping them safe as they sleep has never been easier!​