Parenting Truths
Real parents tell us the truth about their experience of starting a family.
Becoming a Parent: The Truth Is…
Real parents tell us the truth about their experience of starting a family.
Home truths, ugly truths, honest truths and naked truths. The truth is that after 50 years of supporting parents all around the world, we've learned everyone's everyday is different. And that's okay.
Molly
"The truth is, the people in your life will have lots of different opinions when you share that you're going to adopt. But realistically, the opinions of others don't matter if you are 100% committed to your journey. In our experience, we were surrounded by positive opinions, and had no trouble going into the process. It was really important for us to have that encouraging support around us.
The UK's adoption process is very intense, and I wish I'd known just how full on it was going to be before we began. We did not expect every single detail of our lives to be explored, from education and employment, our childhoods and past relationships, to our finances and future goals. It all felt quite interrogating, but we understood why is needed to be that way. Afterall, we were going to be parenting a child who had so far experienced an adverse childhood.
In terms of bringing our son home, we knew it was going to be emotional at first. Luckily, we had received a lot of training throughout the process, so we felt well equipped and able to cope. Truthfully, becoming a parent through adoption comes with so many highs and lows. Once we had found our son it was such a high, and I feel so privileged to be raising him."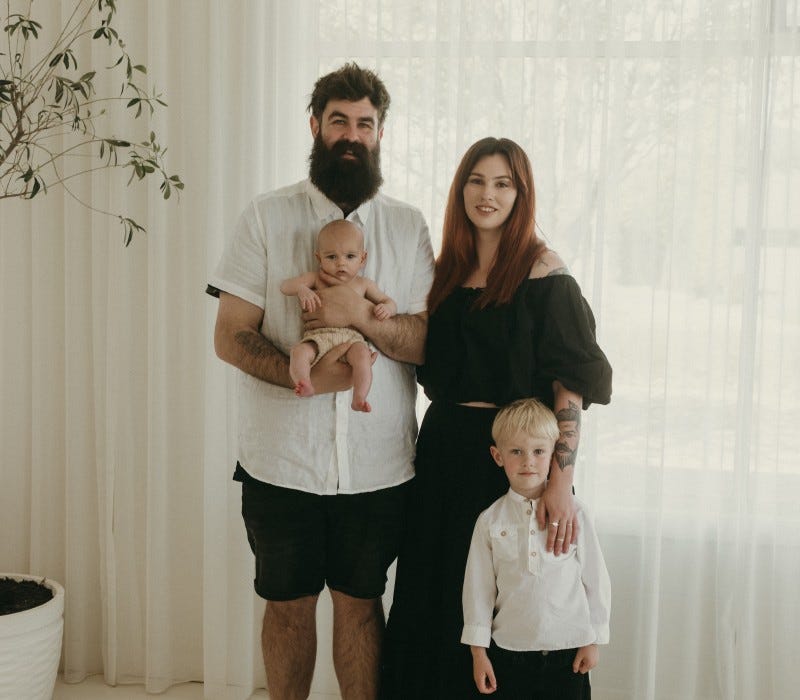 Charly
"The truth is, having a new baby has thrown some challenges our way. Going from one to two little ones means that you're juggling more and we're still getting used to being parents of two boys.
We used IVF for both of pregnancies. After receiving the treatment and finding out that we had quite severe fertility issues I was diagnosed with subconscious IVF trauma, which means that I've had no sex drive or desire for intimacy at all since having my first son three and a half years ago. Basically, something has switched off in my brain that makes me think there's no point in having sex because I can't conceive naturally.
I have seen a sex therapist and tried hypnotherapy to get my brain to realise that getting pregnant is not the only reason to have sex. It's something that I am still struggling with and working on. We don't really talk about the IVF trauma or sex much as a couple. My husband understands, and I'm sure we'll get through it together."
Marlena
"The truth is, throughout my second pregnancy I was positive and chilled – I had a 'bring it on' attitude towards the whole thing.
There were no challenges during the delivery, and I knew that I was in good hands. I was induced at the hospital, had an epidural to help with the pain, and had a vaginal birth as planned.
Luckily, our second daughter was born safely, and she was absolutely perfect! The overwhelming love that you have for your new baby is such a high. I couldn't wait to get settled at home and start life as a family of four! Having a new baby is challenging, but it hasn't really changed the dynamic of our relationship. We're a good team."
Gianni
"The truth is, before the birth of my little girl, I just knew that I wanted to do the best I could. I had some issues with my blood pressure during the pregnancy, and in the back of my mind, I knew that the hospital staff might suggest inducing me. Sure enough, the day that I had her, I had to be induced due to mild preeclampsia.
I was worried as I didn't know how my body would react to being induced, but I knew that I was going to have my doula and my husband there as my support team, and that I wanted to go unmedicated. Luckily, everything went smoothly. I had a vaginal birth as planned, and the whole thing went by pretty quickly.
In comparison to my physical postpartum recovery after having my son at 18, now that I'm 30, my knees and hips hurt! I didn't expect that. I really think that having children takes a toll on your body as you get older. I must remember to rest when I can and put my feet up. Things like soaking in the tub or getting a post-natal massage really help.
The advice I'd give to expectant parents is, lean into your support circle. Voice what you need. Cooking, dishes, a nap? Voice it! On the flip side, if you don't want any visitors, say that too. You control the dynamics that're around you, so don't be afraid to be vocal about what you do and don't need. If people love you, they'll understand!"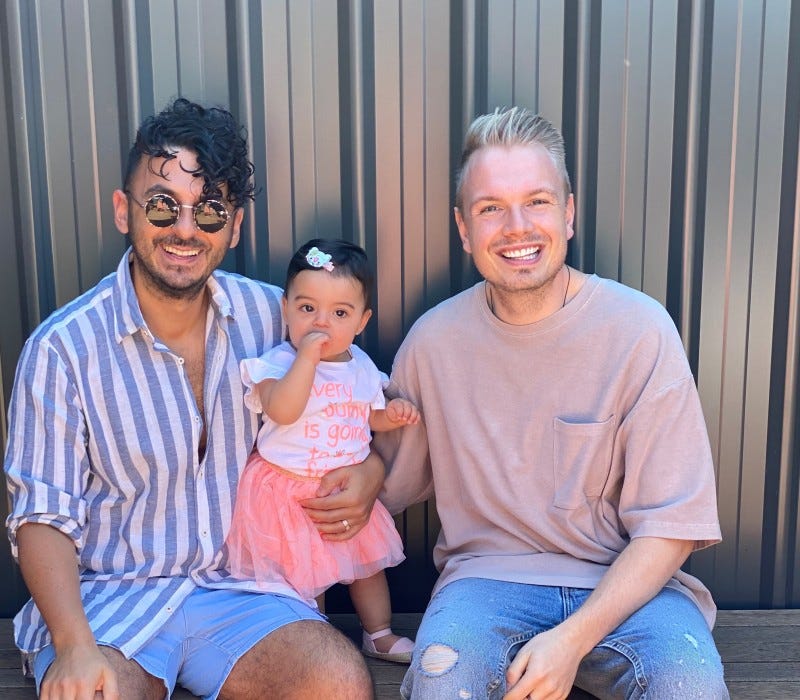 Bee & Leigh
"The truth is, adoption is often described as a rollercoaster of emotions, and that's totally true! We started our parenting journey in August 2019.
We initially considered options such as IVF and IUI before settling on adoption. Ultimately neither of us wanted to carry, and adoption seemed like the most natural fit. We were so excited to find out more and attended our first information evening at a local adoption centre which confirmed everything for us. We couldn't wait to get the ball rolling.
The first stage of the process was the approval panel. In all honesty I don't think we were fully prepared. The reality was that we were being inspected in all elements of our lives.
When we received the phone call of approval, we couldn't help but feel like a weight was lifted off our chests and the excitement soon started to flood in.
The matching panel was the next stage. We had lots of meetings with professionals before being paired with profiles. Our social worker saw the profile of a little girl and just knew we would be the right match so got in touch with us immediately!
The matching panel meeting was over Skype (due to the Government's Covid guidance) which felt more personal than the approval panel over the phone as we could see and interact with panel members. We were so incredibly nervous. Thankfully after what felt like a lifetime, the reality being only a few minutes... it was a match!
Adoption has truly been the best experience. It's been a mix of emotions, lots of highs and lows but totally worth it."
Wes & Jack
"The truth is, becoming parents was always important to us. There's been tremendous progress for same-sex and single parents, which has thankfully made becoming parents a reality for us.
At the beginning of our parenting journey, we initially considered surrogacy. However, through research we understood that pregnancy is hard for women to go through and also recognised that fertility is complex. We felt a sense of duty to not expect a woman to go through all the adversities when there were other options we could explore instead, like adoption.
We officially registered interest in July 2018. We searched for the right agency, had lots of adoption meetings and were paired with a social worker.
Stage one of adoption was admin-heavy and we were given eight weeks to gather then present the approval panel with all our documentation. With all that was required done, it was an elating moment to receive a yes from the approval panel! We then entered the family finding stage in the search for our future child.
Little did we know that two weeks after the approval panel we would be met with the profile of a child who would later be our son.
We were supposed to have six days of introductions before bringing our son home. This was to ease the transition for him as he had been with a foster carer since birth and was as much of a stranger to us as us to him. Unfortunately, due to COVID this couldn't happen, and everything was put on hold.
Eventually, the matching panel recognised it was in his best interest to be placed with us as soon as possible. We had to isolate for two weeks, then the big day arrived. He was ours. At his forever home and sound asleep. We were anxious. Would he settle? When he woke up, heard our voices and smiled. What a relief!
From start to finish our adoption journey took what some would consider a long time, around two years, but it was all worthwhile."