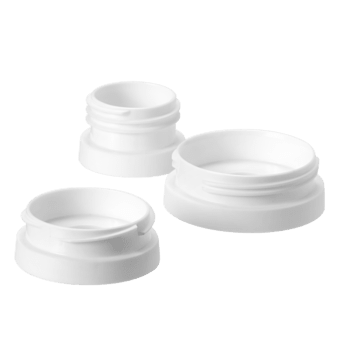 Breast Milk Starter Set Adapters
Our three-piece adapter set allows you to directly connect your breastmilk pouches to all leading breast pump brands. Simply attach your chosen breast pump so you can express without losing a drop.
Which adapters work with which breast pumps?
Our three adaptors (small, medium, and large) allow you to use your breastmilk pouches with a variety of popular breast pumps…
| | |
| --- | --- |
| This adapter… | Works with these brands… |
| Small | Medela, Dr Brown's |
| Medium | Lansinoh, Philips Avent, Spectra, MAM (and many more!) |
| Large | Tommee Tippee |
How should I clean my adapters?
Before first use place all components (except for the milk storage bags – these are pre-sterilised) in boiling water for 5 minutes. This is to ensure that they're thoroughly clean.
Always wash the adapter before and immediately after use in warm soapy water, and rinse in clean water or use a dishwasher (top shelf only).
Do not clean your adapter with solvents or harsh chemicals, and don't allow it to come into contact with oil-based foods (e.g. oil/tomato-based sauces) as staining will occur.
Our adapters are suitable for sterilisation by UV light, steam (electric or microwave), boiling or cold-water tablet/liquid solution.