Bundles
Let us do the thinking for you...
When your prepping for your little one's arrival there are a lot of things to think about!
How will you be feeding them? Is their nursery all set up? Do you have the right cleaning supplies? And so on, and so on! You'd think you're gonna need a shopping list as long as your arm, right? Maybe not!
We've compiled a bunch of money (and stress) saving bundles to help prepare you for your baby arriving on the scene. From feeding bundles, to our well-loved Ollie the Owl newborn bundles – we have just about everything you'll need to make your babies arrival as smooth and hassle-free as possible.
Save stress, save money
At Tommee Tippee, we have one simple mission: to make life simpler for real families. We understand exactly what you need to tackle the arrival of a newborn – we're not saying it's going to be smooth sailing because you have the right products – but it certainly helps.
If you're a new parent, there a lot of gizmos and gadgets you'll need that you probably never thought about and, as the list gets bigger, so does the price. The best and most frugal way of getting baby ready is buying bundles and saving yourself the hassle of separately purchasing every little thing. You'd be very surprised at the amount of money you'll save just from buying bundles, you might even end up getting products completely free!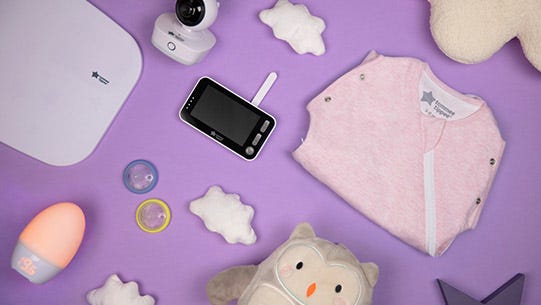 Get baby ready
Getting ready for your little one's arrival is so exciting… or in other words, overwhelming. For someone so tiny, they sure need a lot of stuff. Luckily for you, we have just the thing to prepare you for feeding, sleeping, comforting, nappy changing & basic baby healthcare!
No need to thank us, it's what we do.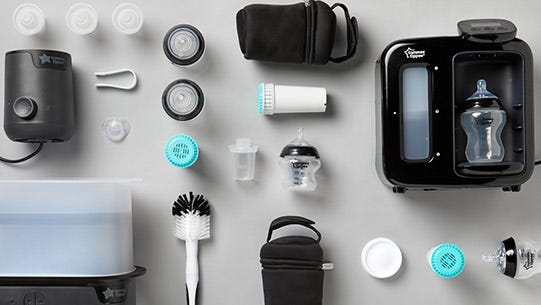 Bottle feeding starts right here
Eat. Sleep. Repeat. Babies need to feed, a lot. And if you're bottle feeding, you're going to need some kit. Introducing our Complete Bottle Feeding Bundle to make mealtimes super easy & super speedy! Complete with our Super-Steam Electric Steriliser and our Perfect Prep Day & Night machine, plus bottles, soothers, teats, storage and so on…
you're all good to go!
You might also like these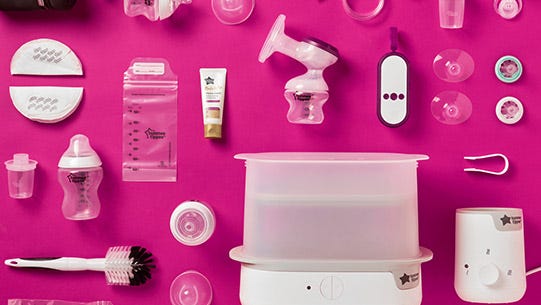 Breastfeeding sorted!
Surely all you need to breastfeed is… breasts? Well, kind of but there's some stuff you might not have thought about.
You need places to store your breast milk, sterilising equipment, bottles if your expressing or combination feeding, breast pumps along with a lot of other gadgets that make breastfeeding life a whole lot easier.
Our Made for Me Expressing Bundle was designed to look after Mums, with disposable breast pads and nipple shields to ensure you stay your happy, confident self. The soft, silicone cup on our Electric Breast pump is made to mimic a baby's natural feeding action, whilst providing gentle and efficient expression. All of this bundled together means incredible value and a hassle-free breastfeeding journey!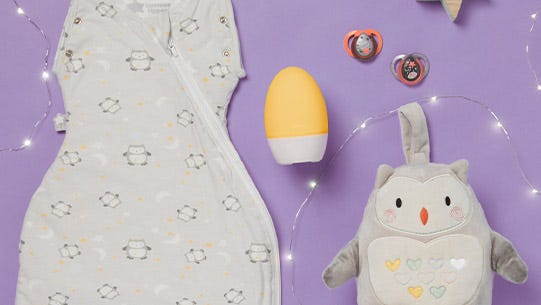 Safe & comfy sleep
There are a lot of final touches that you can add to your nursery to make your baby feel comfortable and safe while they're in there – as well as making sure they (you) get some much-needed sleep!
Our Groegg2 gives you peace of mind at a glance, letting you know the temperature of your baby's room and helping you get them ready bedtime. Plus, Ollie the Owl listens to your baby throughout the night and activated soothing sounds when your baby cries, to help them drift back to sleep… bliss.
These, combined with our Original Grobag Snuggle & Night Time Soother, makes for the perfect sleep time bundle!
You might also like these