About Bottle Feeding
At Tommee Tippee, we know that bottle feeding and all the stuff that comes with it can be daunting for new parents...
Whether you choose breastfeeding, bottle feeding, or a bit of both… there are many ways to feed your baby. When it comes down to it, you'll choose what's best for you and your little one.
So, don't stress! Take a deep breath and we'll help you work it out with our handy introduction to all things bottle feeding.
Over 50 years of experience
We started making baby products to make life simpler for real families.
And we've never stopped!
Our bottle nipples are made from soft silicone and have a special breast-like shape that encourages a natural latch, preventing nipple confusion when switching between breast, bottle and back again.
Meet the family
The unique curved shape of our bottles makes it easy for you to hold your baby in the most natural position when they're feeding – close to you.
Whichever bottle you choose, we guarantee that they're all BPA, BPS and phthalate-free for ultimate reassurance.
Take a look at the videos below to help you decide which bottle is best for you and your baby.
Our original breast-like bottle that's shaped like a breast because babies prefer it that way. The flex and stretch of the special nipple allows your baby to feed at their natural pace.
Say goodbye to the discomfort caused by colic with Tommee Tippee Advanced Anti-Colic bottles. 95% of babies experience fewer colic symptoms*, providing superior performance for parents.
Designed with our famous breast-like nipple and made from durable borosilicate glass, our long lasting, baby-safe glass bottles are resistant to odours and stains.
Our silicone bottles are soft, squishy and comforting, allowing the warmth of the milk to be felt by baby as they feed. Boob soft for comfort and warmth, they feel just like mom!
*Based on an independent survey of 43 US moms of 0-12m, currently use TT AAC, Feb 2023
Boob-like and brilliant
The #1 bottle for easily switching between breast, bottle and back again**, all Tommee Tippee bottles have one thing in common...
The most breast-like nipple ever.
**Based on an independent survey of 1,006 UK mums in Feb 2023
Go with the flow

Wondering how many bottles and nipples you'll need?
Newborn babies can feed anywhere between 10 to 12 times in 24 hours, so you'll need four to six bottles and nipples to get started with. You usually get nipples with your bottles, but it's a good idea to have a few extra in case they get damaged or lost.
Our bottles come in a range of sizes that grow with your baby, and our baby bottle nipples have different flow rates too, so that milk baby's milk can flow faster as they grow.
Bottle feeding at home or on-the-go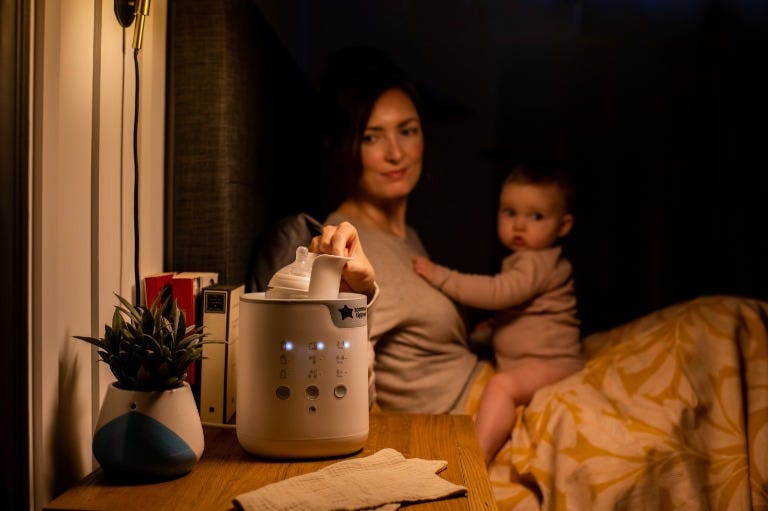 3-in-1 Bottle & Pouch Warmer
This intelligent warmer gently heats breastmilk or formula to body temperature, preserving the nutrients in every feed.
A safe, quick and simple way to warm baby's meal, it can even be used from frozen.
Easi-Warm Bottle & Food Warmer
Designed for real life, this handy bottle warmer heats milk in just four minutes‡ and fits most bottles and food jars. A fuss-free way to warm their meal, fast!
‡Warming times depend upon capacity and starting temperature. Four minutes is based on 150ml from 68°F.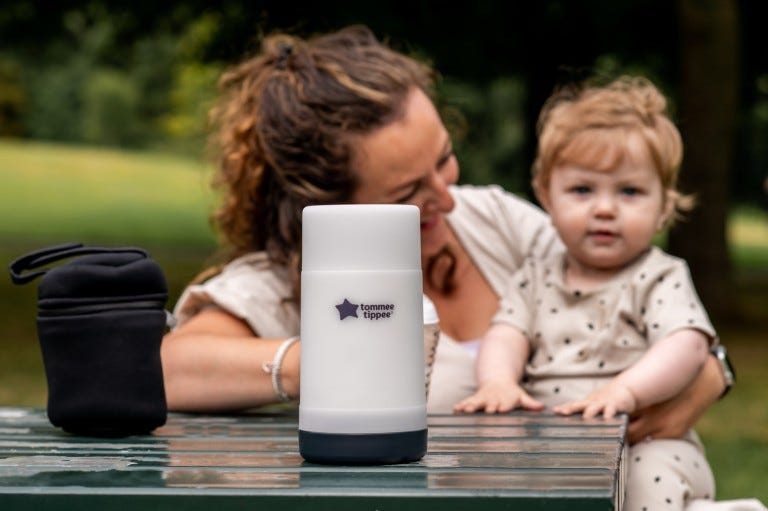 Travel Bottle & Food Warmer
Perfect for when you're out and about, this warmer's compact design means it fits neatly into your baby's changing bag, so you can heat baby's meal anywhere, anytime.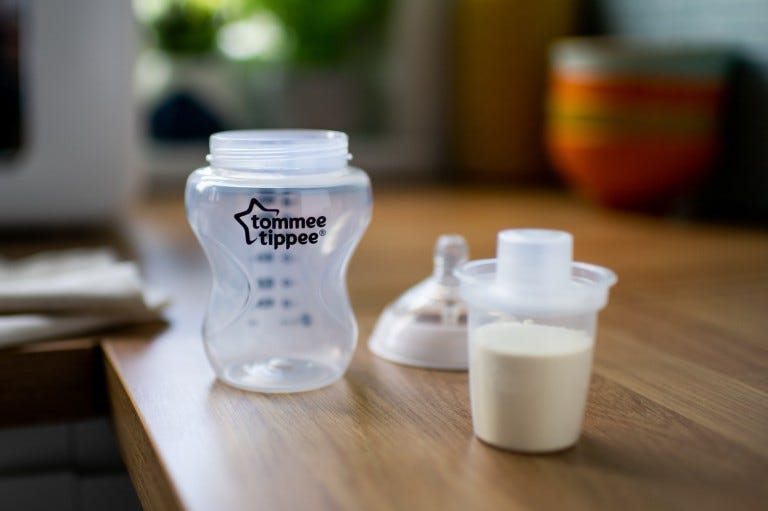 Formula Dispensers
Our milk powder dispensers sit perfectly inside a 9oz Closer to Nature® bottle. Each holds up to eight scoops. Simply mix a meal when you need it.
Squeaky clean and ready to feed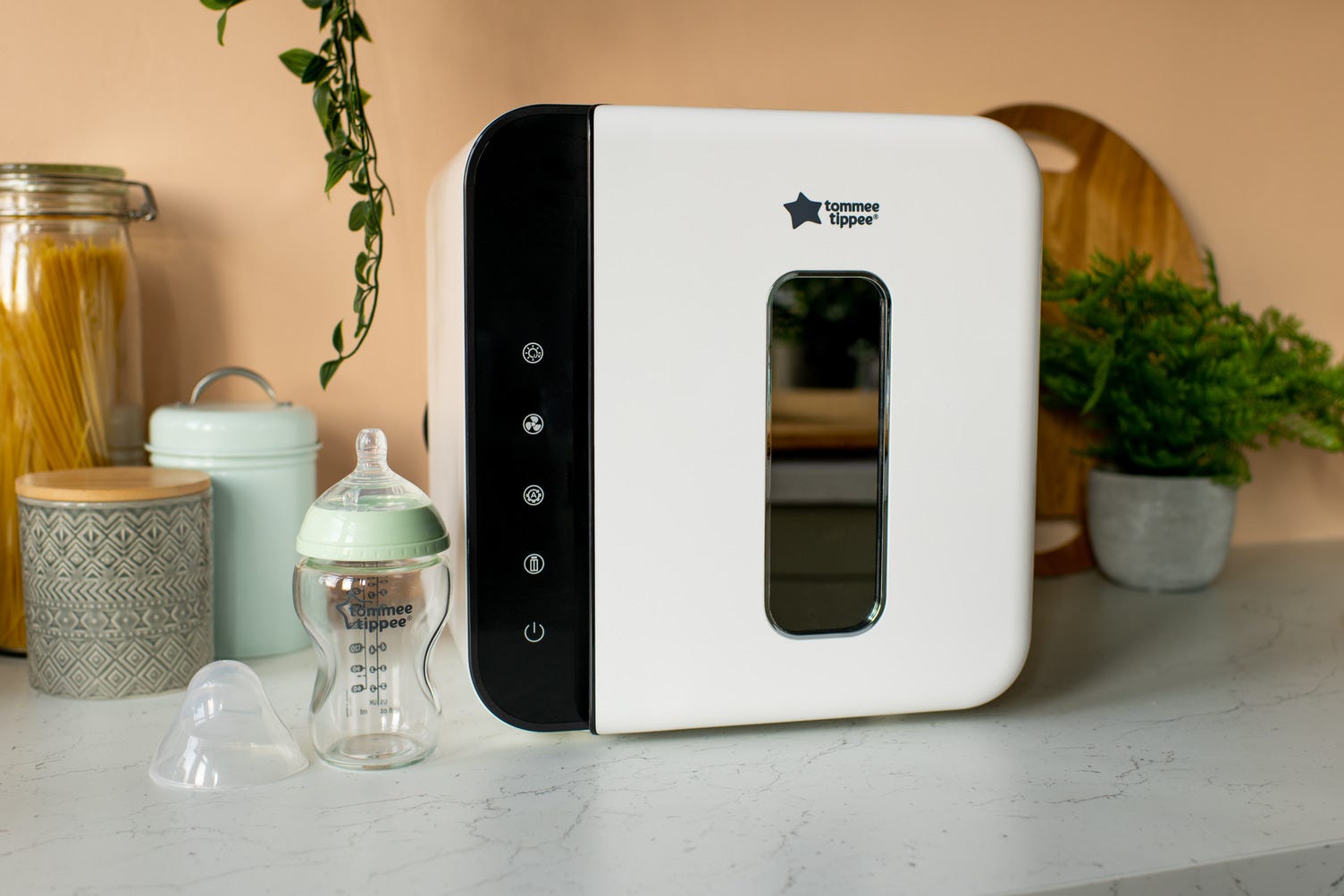 Sterilizers
You should sterilize anything that contacts milk, as well as anything that regularly goes in your baby's mouth. We know, it seems like a lot of work, but it's simple thanks to our range of electric and steam sterilizers.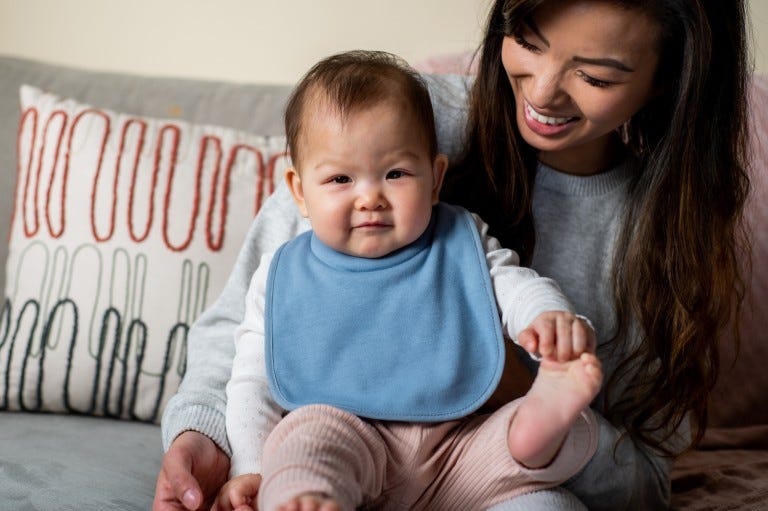 Comfeefit™ Bibs
There to catch any spills or dribbles, our milk feeding bibs are extra absorbent. The Comfeefit™ padded neckband is super comfortable and helps protect their delicate skin.
Bottle feeding breastmilk?
Our Made for Me™ range can help...
Breast Pumps
Using a breast pump to express milk and build up a supply in the freezer can be super helpful, then your partner, friends, or family members can pitch in and help with bottle feeds.
Manual or electric, our Made for Me™ pumps are designed with mum's comfort in mind, so that you feel confident to express when and wherever you like.
Breast milk can be stored using the following guidelines*…
*Please note, this table aims to provide a guide to how long you can store breastmilk for a full term baby with no additional health concerns.
Parent Room | Bottle Feeding
Bottle Feeding Kits
These bundles contain all the products you need to keep you and your baby happy.
From starter sets to super sterilizing packs, they're a one-stop-shop, saving you both time and stress.