While dealing with dirty nappies is never really fun,
you'll soon get into your stride.
As a newborn baby can average around 12 changes in a 24-hour period, you'll certainly have plenty of time to practise. From disposing of those stinky nappies to keeping your home smelling fresh and clean, dealing with germs and odours, we're here to help.
We've been making baby feeding products for over 50 years, so it's only fair to help you deal with what comes out the other end.
Our goal is to make life simpler for real families. So our nappy disposal systems make getting rid of baby's nappies quicker, easier and generally less stinky.
Our clever nappy disposal systems are more than just a humble bin.
They are smell-stopping, germ-killing, nappy-wrapping super bins that protect your home from the nasty bits of nappy time. They really should come with a superhero cape.
Nursery decorated? Cot conquered? Nappies stockpiled?
You go to great efforts to be baby ready but there's one thing you're never really prepared for, the smelly nappies.
Don't worry, we can help. Our nappy disposal bins help keep your home smell and odour free. And save you a lot of extra trips to the outside bin.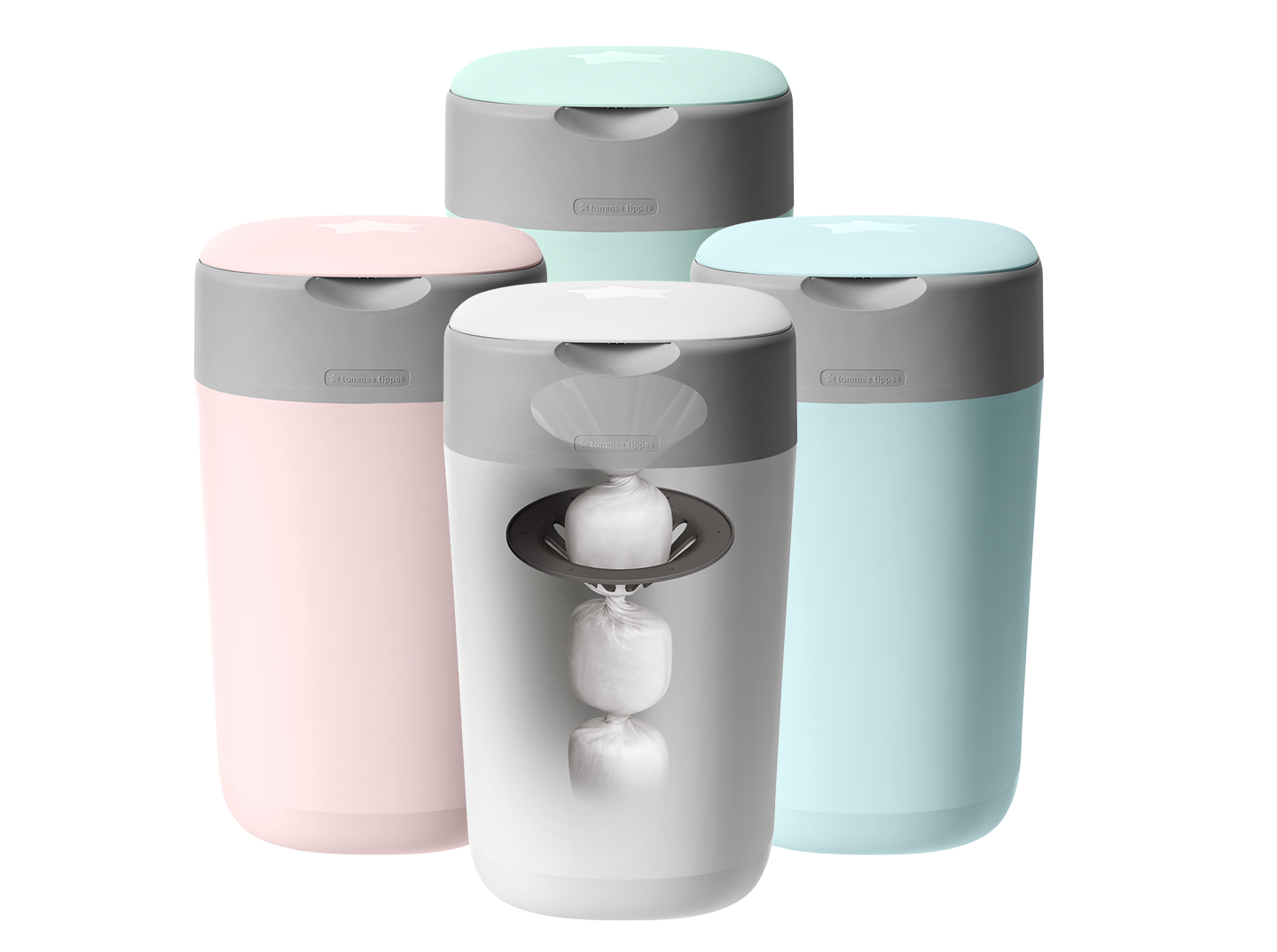 Twist & Click Nappy Bin
The only nappy bin that individually wraps each nappy in anti-bacterial film for unbeatable odour protection to keep your home fresh and smell-free.
| | |
| --- | --- |
| Smart lid and anti-bacterial film block out odours | • |
| Multi-layer antibacterial film kills 99% of germs on contact | • |
| Individually wraps each nappy | • |
| Lid with built in plunger | • |
| Maximum number of nappies | 28 |
| Available in 4 colours | Bin and lid |
| Refills | Fits all bins that twist |
With around 5,000 nappy changes in baby's lifetime, you'll appreciate a little help to reduce the number of trips to the outside bin.
Although our nappy bins hold a load of nappies, eventually you'll need to refill the anti-bacterial film that wraps each nappy and helps keep germs at bay.
Each refill provides enough anti-bacterial film to wrap up to 1 month's worth* of nappies depending on the size and number you use.
* Based on size 1 nappies
Exclusive Bundles