All About Baby Healthcare
You start caring for your baby even before they arrive...
...and once you bring them home, the caring continues.
As you marvel over their perfect tiny fingers and toes and worry over every snuffle, rash or temperature, we're here to help put your mind at rest. Every baby arrives in their family in their own way. Some settle quickly into a routine and can soothe themselves, others need a little more help. Remember that the very best person for the job is you, so no matter how scared you are at first, you'll figure it out together.
More than 50 years of experience
We started making baby products in 1965 with one clear goal: to make life simpler for real families. Everything we do is designed with real parents and babies in mind.
When it comes to looking after your baby, nothing compares to a parent's instinct. But sometimes, it's good to have a helping hand.
Our healthcare range helps provide extra reassurance for you as you care for your baby. It features safe and simple to use products, including baby thermometers and sterilizers, with smart features that make caring for your baby that little bit easier.
Peace of mind
No one likes the thought of their baby feeling sick.
And as they can't tell you what's wrong, it's only natural that you'll be concerned if they seem extra upset and grouchy. Our range of baby thermometers help you keep a close eye on baby's health and deliver some peace of mind.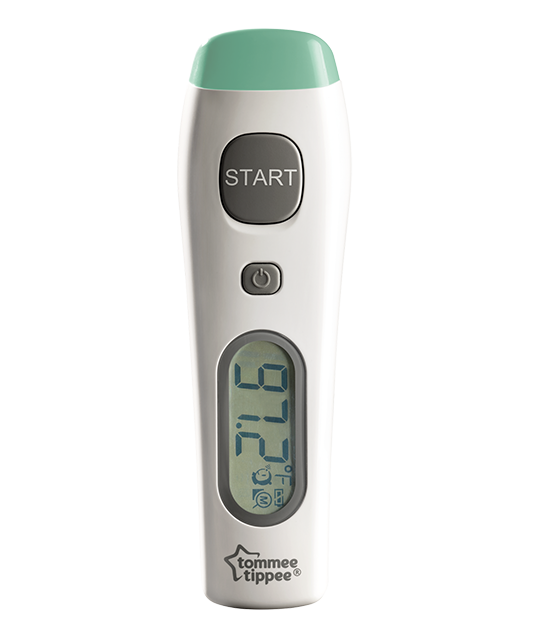 Digital No Touch Forehead Thermometer
The calm and comfortable way to measure your baby's temperature, perfect for reading the temperature of a sleeping child.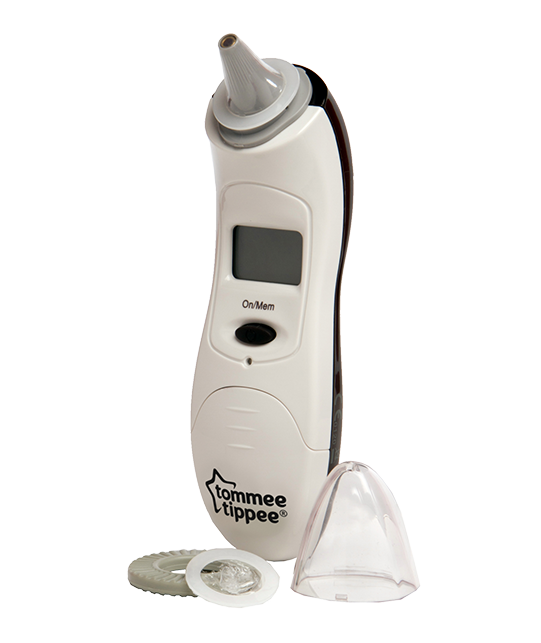 Digital Ear Thermometer
The calm and comfortable way to measure your baby's temperature, perfect for reading the temperature of a sleeping child.
No Touch Forehead Thermometer

Digital Ear Thermometer
Forehead
Mode
Ear
2 Seconds
Speed
2 Seconds
Stores 25 readings
Memory Function
Stores 9 readings
•
Fever Audible Alert
•
•
Suitable for Newborns
•
•
Switch between Celsuis & Farenheit
•
•
Easy-to-read LCD Screen
•
•
No touch technology

•
Mute Mode

2 x AAA

Battery type


1 x CR2032

2 x AAA Battery

Accessories
8 x Hygiene Covers
1 x CR2032 Battery
Happy and healthy
From clippers and combs to thermometers...
Tommee Tippee has everything you need to keep your little one happy and healthy at home.

Our popular healthcare kit contains 9 essential items to look after your baby, including a digital thermometer, nasal aspirator, baby nail scissors, baby clippers, emery boards, baby toothbrush, and a brush and comb set designed especially for use with delicate baby hair and skin. All in a convenient carry case, so you know where everything is at home, or can take it with you when visiting friends and family.
Protect baby's immune system
Your baby can be exposed to all sorts germs and bacteria every day.
As their immune system is still developing, that can lead to tummy bugs and sickness.
By sterilizing baby bottles, nipples and anything else that goes into their mouth, you give your little one added protection. It's one of the most important ways that you can protect your baby and help keep them safe and healthy.
Our range of baby bottle sterilizers provide a fast and fuss-free way to keep bottles, nipples and feeding accessories free from harmful germs.