Parent Diaries
When we decided it was time to start a family and that we were ready, it was late 2019. Not long after, the COVID-19 pandemic hit Australia.
Jessa and Jarryd's Pregnancy Story
Jessa & Jarryd, Australia
"Over the past few years, we'd seen close friends and relatives having babies and witnessing them going into that season of life made us think about becoming parents ourselves. We were both in our mid-20s at the time, and over the next year we started getting excited and thinking about the idea of having a baby.
When we decided it was time to start a family and that we were ready, it was late 2019. Not long after, the COVID-19 pandemic hit Australia. Unfortunately, we both lost our jobs in the space of a month, and we felt as if we were starting from square one. Despite this bump in the road, we decided to keep going with our plan, full steam ahead.
We left Queensland, headed to Melbourne to be closer to family, found new jobs, and started trying to get pregnant within a month. The whole experience allowed us to see what was truly important, and that there's no perfect situation in which to start a family.
We started chatting about parenthood and what kind of parents we wanted to be, and learnt so much about pregnancy, birth, early childhood, and life as parents from podcasts and audiobooks. Jessa has PCOS (polycystic ovarian syndrome), so we had to learn about what that meant for us in terms of getting pregnant and adapt our lifestyle accordingly.
We were trying for around one month and we found it relatively easy to conceive, but it wasn't always a straightforward journey. Unfortunately, our first pregnancy was ectopic, and we suffered a miscarriage which was really difficult – both physically and mentally.
After losing our first pregnancy, we waited three months before trying again, and were shocked to fall pregnant for the second time so quickly as Jessa had one of her fallopian tubes removed during emergency surgery. We feel so grateful and luckily our second pregnancy is going well. We are expecting a little boy!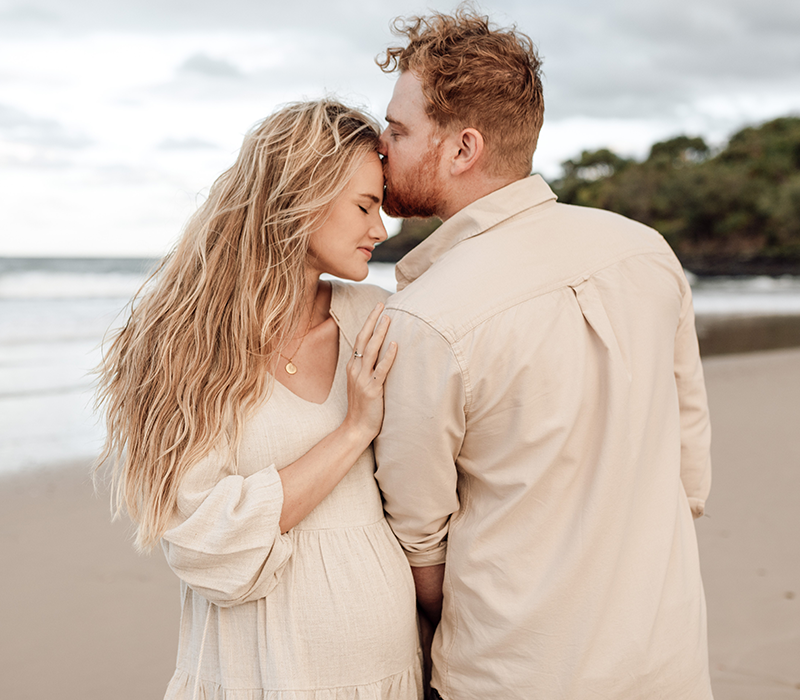 Photography by Jenny M Photography (@jenny.m.photography)
Our pregnancy journey so far has been up and down. Jessa suffered with HG or Hyperemesis Gravidarum (which is all-day pregnancy nausea) up until about 24 weeks. That was very intense for the both of us. Once her symptoms calmed down, we were able to enjoy being pregnant a little more.
In terms of highs during the pregnancy, we went away on our Baby Moon to the Gold Coast which was amazing. Going to the beach every day was exactly what we needed after a difficult first and second trimester. We love going to our scans, feeling our baby boy move and groove, and sharing special memories with family members. Overall, we feel very thankful!
In terms of preparing for our sons' arrival, we are so lucky to have little ones in our family, and we've been able to pitch in with babysitting, nappy changing and playtime to get some practice in.
Emotionally, the idea of becoming a parent is so exciting and thought provoking – but it's also tiring and a little overwhelming to think beyond the toddler stage right now! We've enjoyed spending so much time together getting ready, choosing things for our baby, and indulging in a little bit of retail therapy.
Whatever happens on our parenting journey in the future, we know that any cons will be outweighed by awesome pros! Afterall, raising a child is a marathon, not a sprint."
If this content reminds you of your own experiences or makes you think of someone you know and you feel concerned or uncomfortable, please head to the PSI website for information about perinatal mental health resources that may be able to help.