Parenting Truths
Real parents tell us the truth about their pregnancy experience.
The Realities of Pregnancy: Parent's Stories
Real parents tell us the truth about their pregnancy experience.
Home truths, ugly truths, honest truths and naked truths. The truth is that after over 50 years of supporting parents all around the world, we've learned everyone's everyday is different. And that's okay.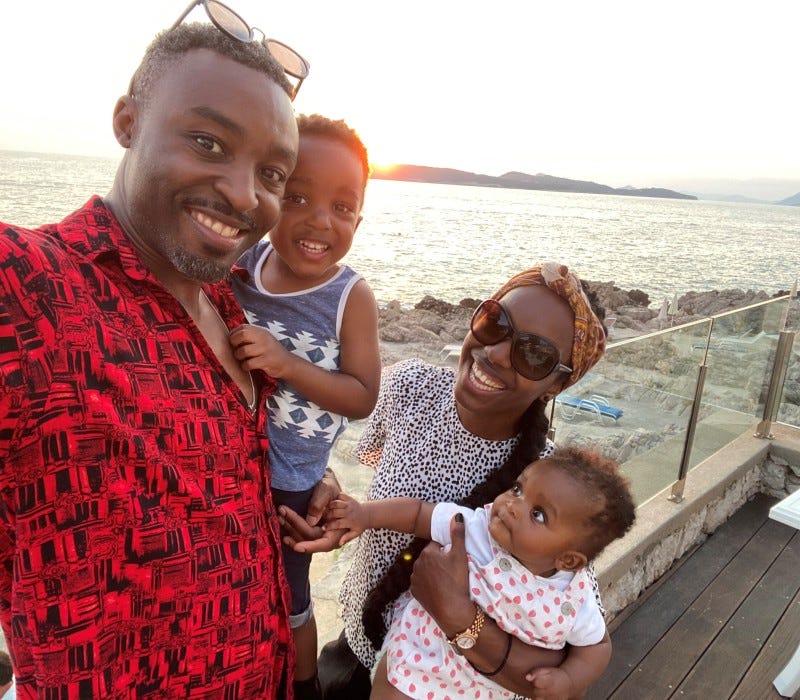 Danielle's Story
"The truth is, pregnancy is an amazing experience. It was the most surreal and bizarre feeling in the world, but I loved being pregnant!
My first pregnancy with my son was very easy. I was working throughout, and touring between lots of other different countries during that time.
Unfortunately, after I'd had my son, I experienced a miscarriage. So, when I then fell pregnant with my daughter, I worried a lot about whether I'd make it to full term. It was really hard because I didn't want negativity to dominate my pregnancy experience, but truthfully, I was just really anxious and went through many sleepless nights.
Nearer the end, I got to a point where I was able to relax a little and enjoy the pregnancy.
I loved having a bump. I'm naturally quite a petit person so seeing my body grow was really exciting for me. Feeling my baby move was amazing, apart from when they kept me up during the night!
Pregnancy really is an amazing thing to experience and the whole process still blows my mind, it's really miraculous! I feel honoured and blessed, and even after experiencing loss, I still treasure the fact that I was able to fall pregnant, because I understand that it isn't that easy for everybody.
I will cherish my pregnancy journeys forever."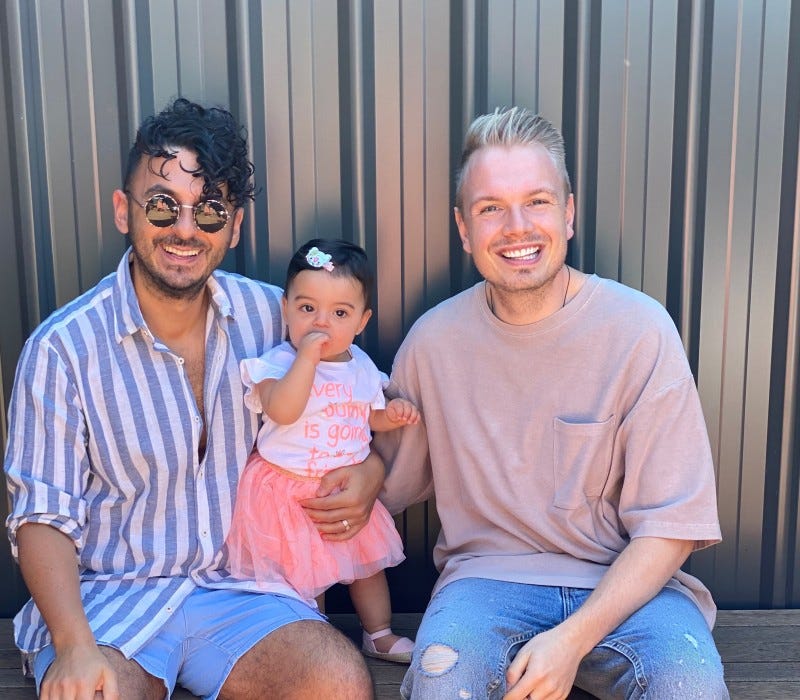 Sam & Rob's Story
"The truth is that because we had a child through surrogacy, we missed out on a lot of the highs and lows of pregnancy."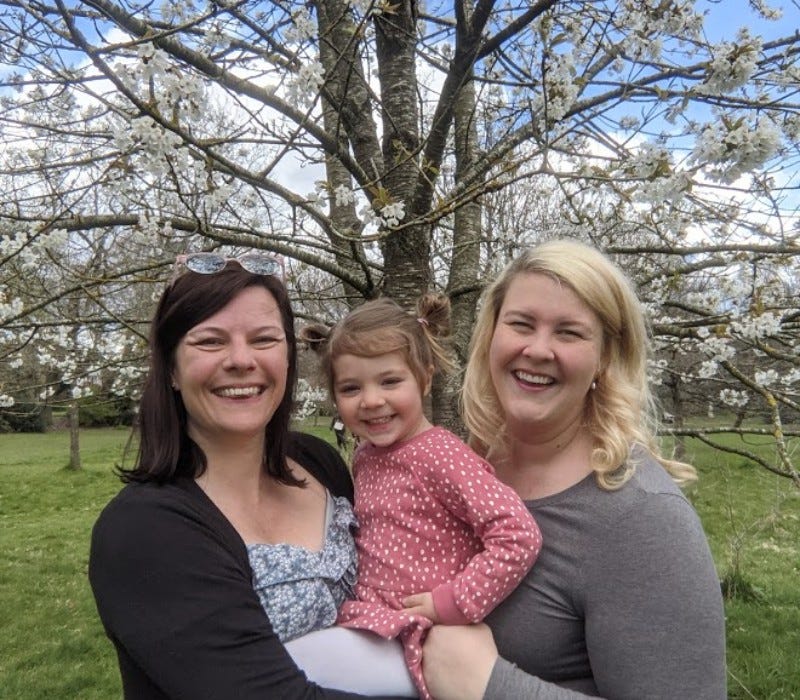 Sarah and Laura's Story
"The truth is that being pregnant took quite a big toll on my everyday life. I was very tired and napping almost every day, so I lost a lot of time. Bonding with my eldest daughter was much more difficult during my pregnancy because I was exhausted. I just couldn't get down on the ground to play around with her like I used to.
Throughout my pregnancy, I was so affected by food. If I cooked a meal for my family, I couldn't eat it. I don't think I ate many hot meals at all during the entire nine months!
Truthfully, hearing about other women's birth stories did influence how I wanted to give birth.
Some of my friends have ended up having emergency C-sections and have been quite traumatised by the entire experience. On the flip side, when my wife gave birth to our eldest daughter via planned C-section, it was such a fantastic birth.
Ultimately, I decided that I wanted an elected C-section. Leading up to my decision, I expected to receive a lot of push back. I'd been told that I wouldn't be supported by the hospital and the midwives. But thankfully that wasn't the case at all!
Before becoming pregnant with our second daughter, I'd previously had a miscarriage, and I can't emphasise enough how much of an impact it had on me mentally. I was so worried that something bad was going to happen for almost the entire pregnancy and convinced that my body was going to fail me again.
When it came to the birth, I just couldn't see it going well. So having an elective C-section allowed me to take back some control. Every medical professional that I saw was really supportive and reassured me that I was in control of how my baby was going to come into the world." – Laura
"The truth is, that for me, pregnancy was a really enjoyable and positive experience. I was so fortunate that my body just seemed to accept being pregnant and I didn't slow down at all. In fact, I was travelling from Birmingham to London two weeks before I gave birth!
I found that during pregnancy, you Google every little thing. From the ingredients in my lunch to how hot my food should be. Anyone looking back at my search history from that time would probably think I was a little crazy! The whole experience really made me question everything I thought I knew." – Sarah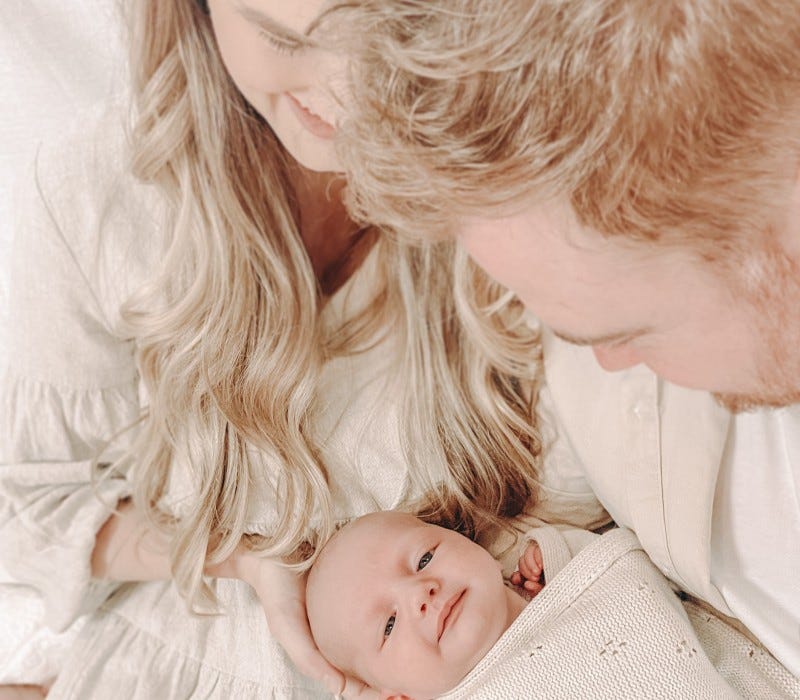 Jessa and Jaryd's
"Before you become pregnant, people often tell you that you'll glow and be totally in love with your bump. But the truth is, pregnancy can be really difficult. It's not always beautiful maternity photos and feeling like a goddess. Sometimes, it's vomiting, peeing all through the night and wanting to be lazy on the couch all day because you just don't feel like yourself. It can be really hard, both emotionally and physically.
Truthfully, every single pregnancy is unique. Even one individual can have multiple pregnancies and feel totally different each time.
For us, it was worth it in the end, and we love our little family so much. I would do it all again for my son 1,000 times over!
Women are superheroes to get through pregnancy."
If this content reminds you of your own experiences or makes you think of someone you know and you feel concerned or uncomfortable, please head to the PSI website for information about perinatal mental health resources that may be able to help.