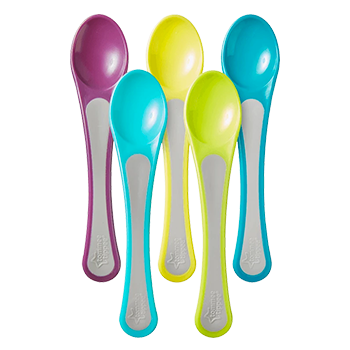 Feeding Spoons
Category
Cleaning & Maintenance
Wash in warm soapy water and rinse in clean water or use a dishwasher (top shelf only). Do not clean with solvents or harsh chemicals.
Before first use, clean the product.
Clean before each use.
Always wash the product immediately after use.
Storage and use
Do not store or leave in direct sunlight or near a source of heat.
Do not store with or allow to come into contact with solvents or harsh chemicals.
Do not allow product to come into contact with oil based foods (e.g. oil/tomato based sauces) as staining will occur.
Not suitable for use in a conventional oven or a combination microwave oven with the grill feature switched on.
Why are my spoons stained?
Tomatoes are usually to blame! If you wash your spoons alongside pans or bowls that have had strong colored sauces in, like tomato or carrot, some of the color can transfer. This can happen in the sink as well as the dishwasher. To keep your spoons looking lovely and new, put them at the front of the queue if you're washing up by hand, and on the top shelf if you're using a dishwasher. This usually results in fewer undesirable stains!