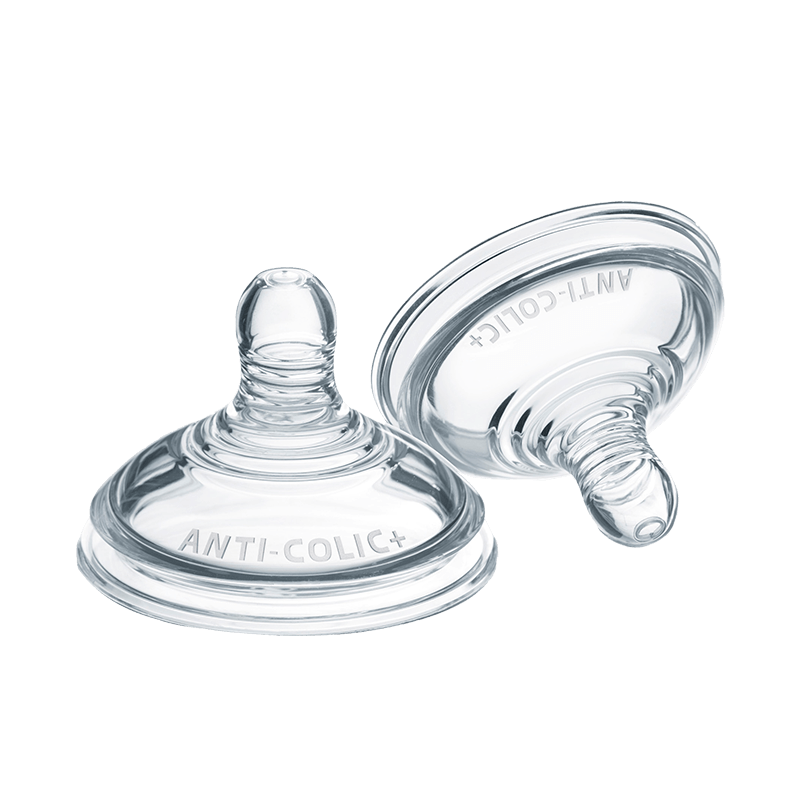 Advanced Anti-Colic Nipples
Category
Getting Started
Great to see that you've purchased our Advanced Anti-Colic Bottle Nipples. To help you get started and to keep your product working effectively, we've added all the guidance you should need within this area, as well as some handy hints and tips and troubleshooting advice.
Making up a bottle of formula for your baby using the Advanced Anti-Colic bottle
The Advanced Anti-Colic bottle is different from other bottles because of its unique anti-colic features. That means you have to make up a bottle in a slightly different way than you may be used to. Don't worry, it will soon become routine.
Using boiling water to prepare formula with Advanced Anti-Colic bottles
Clean all parts of the bottle and anti-colic venting system thoroughly. Please follow the special cleaning instructions.
Boil water in a kettle or pan and allow to cool for 30 minutes.
Add the cooled, boiled water to the anti-colic bottle base and add the appropriate amount of forumla.
Avoid shaking the bottle to mix the formula, as this can add air into the milk which can increase colic symptoms. We suggest that you stir the formula gently with a spoon to mix the feed.
We recommend reassembling the anti-colic venting system before sterilizing, so it should already be assembled. If not, please refer to the diagram to connect the star valve, venting tube and venting wheel together. Check that the slit in the star valve is open by holding it up to the light. If it has sealed shut, pinch it gently between your fingers to re-open.
Make sure that the venting tube is at room temperature before testing the temperature of the feed. Dip the tube for 10 seconds. If the heat sensing strip shows solid pink, then the feed may be too hot. Allow the feed to cool further before feeding your baby.
Once your feed is at the right temperature, finish assembling the bottle by putting the connected star valve, venting tube and venting wheel inside, then placing the hood on top of the anti-colic teat with screw ring and attaching to the bottle base. DO NOT shake the bottle.
Always check the temperature of the formula mix before feeding your baby.
Closer to Nature nipples look the same, can I use them on Advanced Anti-Colic bottles?
No, you can't use Closer to Nature nipples on Advanced Anti-Colic bottles. Closer to Nature nipples have a built-in air valve, and don't work with our Advanced Anti Colic bottles. The valve in your Advanced Anti Colic bottles is situated inside the bottle, attached to the end of the venting tube and is shaped like a star. It's important that you make sure you match the right nipple to the right bottle.
Can I store breast milk in bottles?
Yes, our bottles love to look after your breast milk. We even have special lids that you can pop on to store your milk in the fridge or freezer. If you're pumping and storing breast milk, our Pump and Go™ range may be handy too - it features a clever pouch that you use to pump, store, warm and feed (it's our all in one show). This means there's no need to transfer milk at any stage, so you'll never lose a precious drop.
Cleaning & Maintenance
Can I put bottles and nipples in the dishwasher?
Yes you can. Pop them on the top shelf though. As with all white and clear plastic things they can get a bit stained and yucky-looking in the dishwasher (blame that bolognese sauce or carrot soup you had last night). If they do get discolored there's nothing to worry about - they're perfectly safe, they just don't look as inviting,
DOS
Before first use, disassemble all parts and place in boiling water for 5 minutes, this is to ensure good hygiene
Clean before first and each use
Always wash the product immediately after each use
Clean in warm soapy water or in dishwasher (top shelf only)
Ensure that you take apart the venting wheel (D) and venting tube (E) and clean thoroughly with the brush provided
For cleaning other bottle parts, use a Tommee Tippee bottle and nipple brush
Sterilize all parts of the bottles after cleaning and before use (all bottle parts are suitable for sterilization by steam (electric or microwave), boiling or cold-water tablet/liquid solution.
Inspect before each use and pull the teat in all directions
Throw away at first sign of damage or weakness
For safety and hygiene reasons we recommend replacing the feeding teat every 2-months
DON'TS
Do not clean with solvents or harsh chemicals
Do not allow product to come into contact with oil-based foods e.g. tomato based sauces or carrots
Do not turn the teat inside out for cleaning as this could damage it
Do not store or leave in direct sunlight or near a source of heat, or leave in disinfectant ("sterilizing solution") for longer than recommended as this may weaken the teat
Do not store with or allow to come into contact with solvents or harsh chemicals
Not suitable for use in a conventional oven or a combination microwave with the grill feature switched on
Do not heat in a microwave with the bottle sealed. Remove the nipple, screw ring and bottle hood first
Troubleshooting
Why is the nipple collapsing when I feed my baby?
The Advanced Anti-Colic Nipple's round dome valve, which fits onto the bottom of the venting tube is very sensitive as it is made of specially designed silicone material. This can sometimes stick together when not used for periods of time or before first use. Make sure the slit in the dome valve is open after cleaning and sterilizing.
Reassemble your bottle as per the instructions. When assembling your bottle it is important that you check the valve at the base of the stem by holding it to the light to check that the slit in the silicone has not sealed closed. If it has sealed closed, pull apart gently between your fingers to re-open. If the valve has sealed closed your bottle will not vent properly.
How long do niples last?
Our bottles will last as long as your baby needs them but nipples take a little more hammering and should be changed regularly. We suggest you switch your teats for new ones every 2-months.
Can I use Closer to Nature nipples on Advanced Anti-colic bottles?
The simple answer is no, and we're really sorry about that. Most of our products are made with interchangeable parts to make life as simple as possible. But the Closer to Nature nipples have a built-in air valve, and don't work properly on our Anti-Colic Bottles.
How do I know if my baby is ready for a fast flow nipple?
There's no single answer to this as every baby is totally different. We do a medium flow nipple which most babies are ready for at around 3 months, and a fast flow nipple which is usually best from around 6 months. Another option is to consider our variflow nipple which has an X cut at the end so your baby can dictate flow rate. Most babies will let you know in their own way when they're ready to feed more quickly.
How to prepare an Anti-Colic Bottle with Perfect Prep
How to clean an Anti-Colic Bottle