Finding Your Fit
Pumping breast milk shouldn't hurt and making sure that you have the correct breast pump horn size for your nipples makes it easier to painlessly express breast milk for your baby.
Measuring the Right Size for Your Breast Pump Horn
Pumping breast milk shouldn't hurt and making sure that you have the correct breast pump horn size for your nipples makes it easier to painlessly express breast milk for your baby.
The truth is, no two nipples are the same, and we're here to help you find the correct-sized horn for you.
As well as the 24mm and 28mm horns that your wearable pump comes with, we also have 17mm and 19mm inserts and a 20mm horn available. If you think you need a different sized horn, you can order this (and other spare pump parts) for free, just follow the link below.
What is a breast pump horn?
Put simply, the horn of your breast pump is the funnel-shaped plastic part that fits over your nipple as you pump. It's also sometimes called a flange or sheild.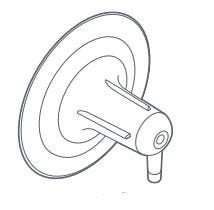 Why do I need to measure my nipples?
Measuring your nipples and making sure that you're using the right horn size means that every pumping session is comfortable, efficient, and effective.
If your horn is too loose, you'll find it difficult to pump all the milk from your breasts, which may harm your milk supply or make pumping unnecessarily painful. You don't want your nipples to pinch, rub or cause you any discomfort while you pump.
If the horn you're using is too tight, your breasts can be constricted in ways that may lead to clogged milk ducts.
How to measure your nipple and required horn size
The correct fit is based on how your nipple fits into the tunnel of the horn, rather than how your breast fits into the cone of the horn.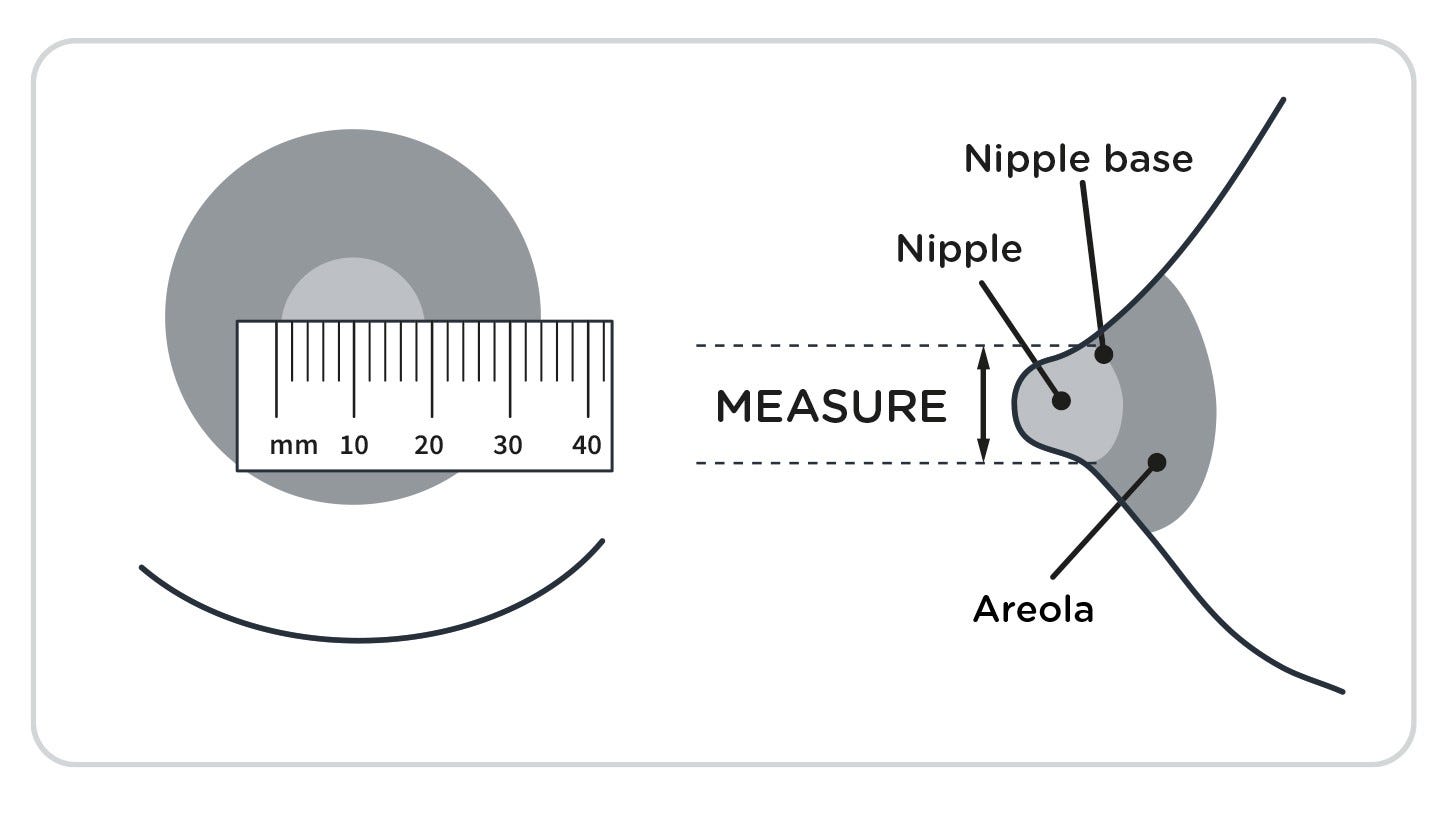 Before you get started, it's best to make sure that your nipple is full size. You can do this by gently rolling it between your thumb and finger or by putting something cold on it.
Before you pump, you should use a ruler or measuring tape to find the diameter of the base of your nipple in millimetres. You should only measure your nipple on its own, don't include your areola (the outer edge around your nipple).
Once you have your measurement in millimetres, add 4mm to this measurement. This is because it's better to have a larger breast shield diameter than your nipple base size so that when your breast pump is used and creates a vacuum, it'll make your nipple slightly larger. Having a gap of about 4mm between your nipple and the breast shield allows for your nipple to expand comfortably while you're pumping. So, if your nipple base measures 20mm across, the correct horn size for you is 24mm.
Once you've measured one nipple, repeat the process with the other.
How do you know if your horn is the correct size?
Your whole nipple should fit comfortably without much, if any, of the areola entering the tunnel before you start pumping.
Your nipple should be centred in the middle and move freely in and out of the tunnel while you pump without causing rubbing, redness, or pain.
Your pump should express most of your milk and your breasts should feel noticeably softer and lighter after every pumping session.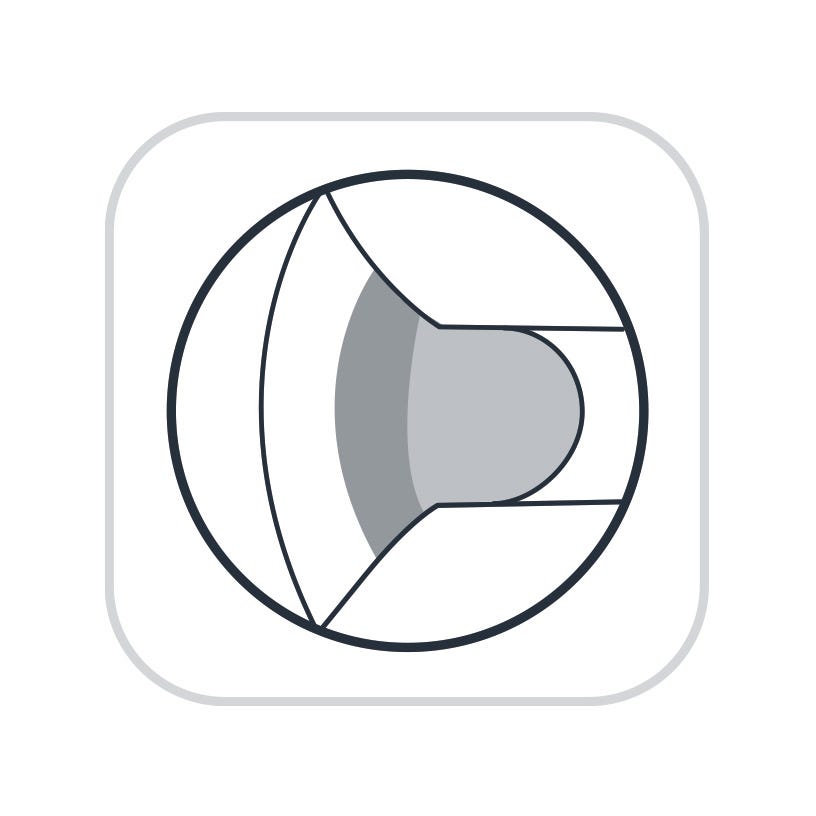 Too Small
All your nipple rubs against the tunnel and none of your areola gets pulled in.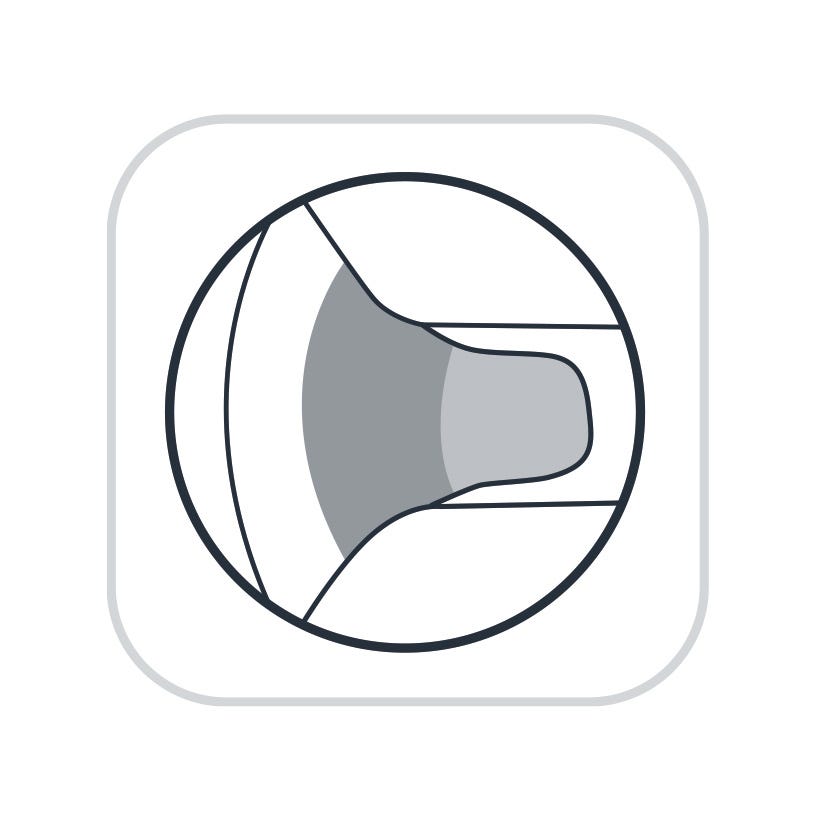 Too Big
More of your areola is sucked into the horn and may rub against the edge of the tunnel.
Just Right
While you pump, only a small amount of your areola is pulled into the tunnel, not too much or none.
Breast pump horn top tips
It's important to know that the right horn size for you can change throughout your breastfeeding journey, so remember to keep an eye on how yours fits and feels.
Nipples are like sisters, not twins – they're similar but not identical – so it's common to have two different-sized nipples and it's best to measure them each individually.
Remember that just like nipples, all brands of horns are different. Some are soft, some are hard, and all have a slightly different shape and fit. So if one brand doesn't work at the size you've measured, another one may still work.
If you're finding it tricky to get a horn that fits perfectly even after measuring or if you're experiencing nipple elasticity (where the skin on your nipples and areola stretch during breastfeeding or pumping), inserts may help to improve the comfort and fit of your horn.
Don't hesitate to reach out to your doctor or a lactation consultant for support if you're worried about any aspect of your breast pumping journey.