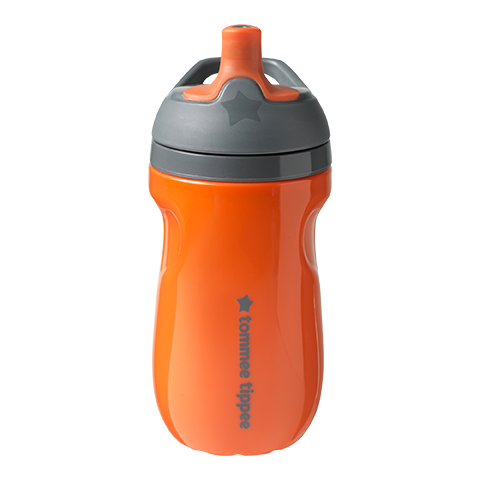 Insulated Sportee Bottle
Category
Getting Started
Great to see that you've purchased a Tommee Tippee Insulated Sportee Bottle. To help you get started and to keep it working effectively, we've added all the guidance you should need, plus some handy hint, tips and troubleshooting advice.
Cleaning & Maintenance
How do I clean my sportee bottle?
Wash in warm soapy water, then rinse (or you can pop it on the top shelf of a dishwasher). We recommend letting everything air fully dry before putting it back in your cupboard.
How do I remove the valve?
Unscrew the lid, taking the valve out. You may need to wiggle the valve from left to right.
How do I clean the valve?
Separate the 2 parts of the valve – the hard white retainer and the soft clear silicone.
Wash all parts thoroughly in warm soapy water, then rinse in clean water.
You can also wash all parts of your cup in the dishwasher (top shelf only) after each use.
Shake off any excess water and leave all parts to air dry before you put your Sportee bottle and valve back together.
How do I re-assemble my Sportee bottle?
To re-assemble, connect the soft clear silicone and white retainer parts together. Make sure that parts A and B of the soft silicone side are gently pushed through the white retainer.
And make sure that the slit in the valve is open by giving it a gentle squeeze.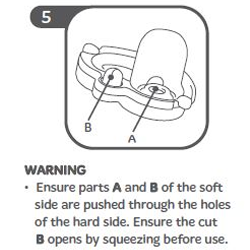 Can my Sportee be sterilized?
Of course. Our cups are suitable for sterilization by steam (electric and microwave), by boiling (5 minutes) and by cold water tablet / liquid solution. The only exceptions are our insulated active sippee and active straw cups, which are only suitable for cold water sterilization.
Troubleshooting
What drinks are suitable for a Sportee?
Our cups are designed to be used with milk, water or juices that don't contain pulp.
They are not suitable for fizzy (carbonated) drinks, formula or hot liquids.
Why is my lovely cup stained?
Tomatoes are usually to blame! If you wash your cup alongside pans or bowls that have had strong colored sauces in, like tomato or carrot, some of the color can transfer. This can happen in the sink as well as the dishwasher. To keep your cups looking lovely and new, put them at the front of the queue if you're washing up by hand, and on the top shelf if you're using a dishwasher. This usually results in fewer undesirable stains.
Can I get a spare lid?
We're afraid you can't buy lids separately, but the good news is that all our cups have interchangeable lids, so it's easy to swap them around. The only exceptions are our meal time trainer and filter bottle - these have such a distinct design their lids don't fit other cups.