LetsGo Portable Bottle Warmer
A perfect feed for your baby, anywhere.
Something's heating up!
Our LetsGo Bottle Warmer is a practical on-the-go gadget that warms a feed to the perfect temperature without the need for boiling water.
It's also covered by our exclusive two-year warranty when you buy directly from us.
Compact, lightweight and leakproof
Designed to make on-the-go feeding (at the beach, in the park or when you're out for lunch) a breeze, the lightweight, leak-proof and compact unit fits neatly into a backpack, handbag or changing bag.
Easy and speedy
The LetsGo is really simple to use!
Just take your prepped bottle, turn the warmer upside down and twist on the bottle and adaptor to connect them securely...
Then, switch on the unit by holding down the power button for two seconds and click it again to select your desired temperature as shown on the sleek digital display.
The warmer will start to heat, and it'll let you know that the milk has reached the desired temperature with a "beep".
To switch the unit off, just press the power button again for two seconds and pop on the lid to protect the heat plate.
Gentle and efficient warming
To make sure that your baby's feed is just right, the LetsGo's slow-heating technology eliminates hot spots and ensures that each bottle is warmed evenly, while also preserving the essential nutrients and goodness in every feed.
Thanks to the LetsGo, 150ml of formula milk or breast milk is warmed to body temperature (37°C) in just 10 minutes*, and there's no need for boiling water!
*Based on a 150ml bottle
No batteries required
Ideal for life on-the-go, the LetsGo's long-lasting battery provides enough power to warm seven 150ml or four 260ml bottles in a single charge and it's powered by a handy USB Type-C cable.
Because convenience is key when you've got a baby, you can charge your unit at home, in the car, in a café, and well… just about anywhere!
Three accurate temperature settings
The unit has three different temperature settings and can heat a bottle of milk to 37°C, 40°C or 45°C to suit your baby's preference.
Compatible and versatile
We've designed the LetsGo so that it can be used with all Tommee Tippee bottles (excluding our glass ones).
But to make life a little easier, there are also two additional adaptors included so that it can be used with baby bottles from MAM and Philips Avent, too!
Parent Room | Bottle Feeding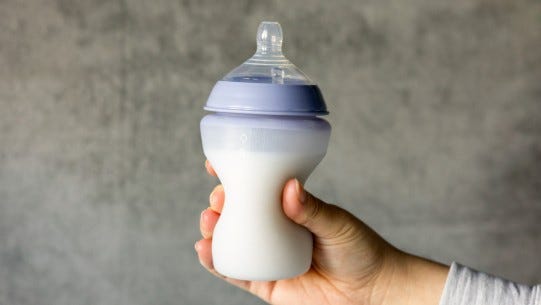 A Step-by-Step Guide to Bottle Feeding
We've created a handy step-by-step bottle feeding guide to help you get started.