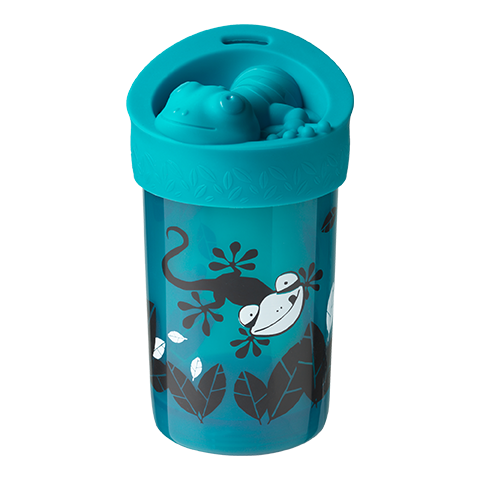 No Knock Cup
Category
Getting Started
Great to see that you've purchased a Tommee Tippee No Knock Cup. To help you get started and to keep it working effectively, we've added all the guidance you should need, plus some handy hint, tips and troubleshooting advice.
WARNING
Inspect before each use. Throw away at the first signs of damage or weakness. Do not store or leave in direct sunlight or near a source of heat. Do not store with or allow to come into contact with solvents or harsh chemicals.
Cleaning & Maintenance
How do I clean my No Knock Cup?
You can wash your No Knock cup in warm soapy water, leaving it to air dry. Make sure it's thoroughly dry thoroughly by shaking excess water from the Clevergrip™ base then gently wiping away all visible water droplets before using by turning the cup upside down.
If you have a dishwasher you can remove the Clevergrip base and wash the cup on the top shelf of the dishwasher, however the Clevergrip base cannot be put in the dishwasher so will need to be hand washed. If you want to see the cleaning process in action, check out this short video.
Can I put my No Knock Cup in the dishwasher?
Yes, the base can be placed in the top rack only. However, the Clevergrip base cannot be put in the dishwasher so will need to be hand washed.
How do I remove the Clevergrip base?
You can remove the base of your No Knock cup by placing your palm across the base and turning it anti-clockwise to unscrew.
Troubleshooting
What surfaces will my No Knock cup work on?
Your No Knock cup will work on smooth, flat surfaces such as work surfaces, tables and high chairs. It will also work on glass, melamine and fine grain wood. It won't work on a tablecloth, surfaces with a deep wood grain, or fabric.
Help, my No Knock cup isn't working?
If your No Knock cup isn't gripping quite so firmly, there may be some dirt or dust trapped inside the base. Don't worry it's really easy to fix.
Remove the base by placing your palm across the base and rotating anti-clockwise to unscrew. Then rinse thoroughly under the tap ensuring that the water runs into the small hole in the centre of the Clevergrip™ base.
Next gently lift the edge of the silicone skirt (do not pull) and run water under the skirt all the way around.
Finally, rinse through all four holes in the solid part of the base and dry thoroughly by shaking off excess water then gently wiping away all visible water droplets. Allow to dry before screwing your Clevergrip™ base back into your cup by hand.
To test your Clevergrip™ base is working, place your clean, dry, empty cup on a flat smooth surface.  It should not tip over when you gently tap the sides.  It should lift easily when picked up vertically.
Can I put my No Knock Cup in the microwave?
No. The No Knock Cup is not suitable for the microwave.
Can I warm liquids using the cup?
No, the No Knock cup is not suitable for a microwave oven, conventional oven or any other heating device. We also only recommend cold liquids.
Why is my No Knock Cup stained?
As with other things around the kitchen, your cup can become stained and yucky-looking in the dishwasher or even when you hand wash it (blame that Bolognese sauce or carrot soup). Don't worry, it is still perfectly safe to use.
Why is water leaking out of the base?
It sounds like your CleverGrip base isn't fully dry. We recommend removing the Clevergrip™ base by placing your palm across the base and rotating anti-clockwise to unscrew. Allow the base to dry thoroughly before using.
What drinks can I use in my No Knock cup?
Only cold or room temperature drinks can be used. Do not add hot or warm drinks.
Help! My No Knock cups isn't working, it is sticking to the surface!
Your cup will not lift if you try to pick it up at an angle or quickly, these features help stop those accidental spills. By picking up gently and vertically you'll find your cup works fine. Sometimes it still may not want to move. Don't worry though, you can simply slide it off the edge of the surface or leave for a few minutes before trying again. You can also tilt the cup at an angle and put your thumb on the silicone disc, push gently to break the surface seal. To reduce the risk of sticking you should also check that your Clevergrip base is completely dry and the surface you are putting the cup onto is dry. If you've tried all of the above and your cup is still sticking too much, you can contact our Product Pros through our free phone number 08085 97 98 99.
Can I sterilise the No Knock Cup?
Yes you can. But it's only suitable for cold water sterilisation, following the manufacturer's instructions. Do not sterilise by boiling, steam or microwave, these will damage the cup.
How to use the No Knock Cup
How to clean the No Knock Cup