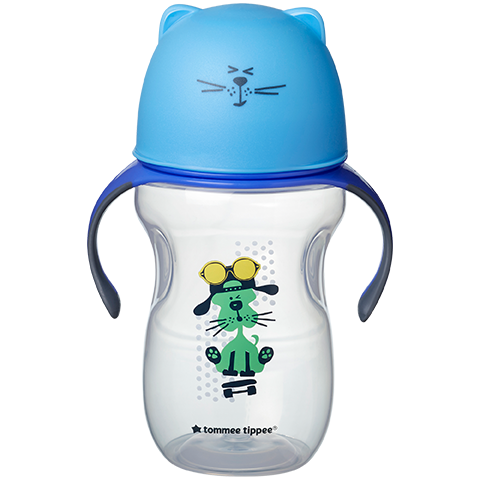 Soft Sippee Trainer Cup
Category
Getting Started
Great to see that you've purchased a Tommee Tippee Soft Spout Transition cup. To help you get started and to keep it working effectively, we've added all the guidance you should need, plus some handy hints, tips and troubleshooting advice.
How do I change the teat and spout on my soft transition cup?
You can choose whether your baby drinks from this cup using a bottle/breast-like teat or a soft spout like a sippy cup.
To change between the two, turn the screw ring to remove it from the cup base, and pop the teat or spout through the middle.
When using the soft transition spout, align the valve with the arrow on the screw ring.
The cup also comes with a hygiene cover. To prevent damage to the spout or teat beneath it, please make sure that you align the star on the hygiene cover with the star on the screw ring.
Cleaning & Maintenance
Before you use your soft spout transition cup for the first time, place it in boiling water for 5 minutes to make sure that it's hygienically clean.
How do I clean my soft spout transition cup?
It's a good idea to keep anything that goes in baby's mouth clean. So please make sure you wash your soft spout transition cup before and after each time you use it.
Wash all parts of the cup in warm soapy water and rinse in clean water. Or you can put all the parts in the dishwasher (top shelf only).
It's important that you take extra care when cleaning the spout valve. It's made from a thinner silicone than the rest of the spout, so please take care not to damage it.
Do not use a teat brush or other tool to clean the teat, valve or feeding holes as this may damage them. Just flush them through with warm water as you clean them.
Can I put my soft spout transition cup in the dishwasher?
Yes, you can clean all parts of the cup on the top shelf of your dishwasher.
Can I sterilise the soft spout transition cup?
Yes, you can. You can sterilise all parts of the cup, but you may choose not to sterilize the handles.
You can sterilize by steam (electric or microwave), boiling or cold water tablet / liquid solution.
How often should I replace the teat?
For safety and hygiene reasons we recommend replacing the feeding nipple every 2 months.